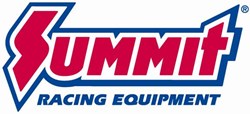 Tallmadge, OH (PRWEB) September 13, 2013
More power from a simple wire swap? Yes--Taylor's ThunderVolt 8.2mm wires are dyno-proven to conduct more spark energy than competing wires. More spark to the plugs means better combustion—and that means more horsepower and torque, smoother idle, and improved fuel economy.
FEATURES

Ferrite spiral core blend of copper/nickel alloy bonded by a conductive acrylic cover
Low 40 ohms/ft. resistance for optimum RFI and EMI suppression
Compatible with most ignition systems and electronic components
100% double-layer silicone outer jacket for heat protection up to 600º F
Silicone plug boots with vibration-proof double spring locking terminals
Wires fit most OEM wire looms
Thundervolt 8.2mm Ignition Wires are available in universal-fit sets and custom-fit sets for many GM, Ford, Mopar, AMC/Jeep, and import engines. The wires are available in black, red, and blue.
PRODUCT LINK
http://www.summitracing.com/search/brand/taylor-cable/on-sale/yes/product-line/taylor-thundervolt-8-2mm-spark-plug-wire-sets?autoview=SKU&ibanner=HP50R299
Summit Racing Equipment
http://www.SummitRacing.com
1-800-230-3030