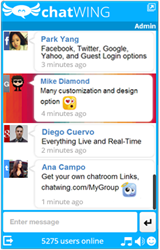 New York, NY (PRWEB) September 12, 2013
Chatwing developers have resumed its advance into the world of forums by launching its newest premium chat app. This time, the company has targeted the business niche, prior to their research about its importance to its importance to web users.
"This advancement to business forums is one of our best strategies yet. We are looking forward to a better state of website chat among users who are dependent on business advice," says Mike Diamond, a Chatwing chat software elite developer. He has also developed dozens of special chat rooms for clients.
"Business forum owners can gain high rates of traffic with the Chatwing chat box. It will start off as a trickle and it will go up. Discussion is important in business forums and other niches as well. We have observed how these business tips circulate from one chatbox to another. It is like a chain reaction process," Mr. Diamond added.
Chatwing.com will continue introducing more chat room features in the coming weeks. These features will increase the way users experience the chat room. The users can gain more online communication leverage and even greater chance to meet new people.
About Chatwing.com
Chatwing.com specializes in the new field of live website chat software. Over years, the Chatwing team has introduced live chat widget for hundreds and thousands of blogs. The Chatwing application bridges people from many parts of the world, creating global synergy through the Internet. The shout box can be installed in just seconds, and it can be used for varying purposes such as leisure and Internet marketing. It also allows a user to customize the size, color, and name of the widget.