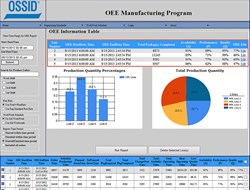 Rocky Mount, NC (PRWEB) September 12, 2013
Ossid, powered by Pro Mach, will demonstrate for the first time at Pack Expo, September 23-25 in Las Vegas, an Overall Equipment Effectiveness (OEE) software tool for the company's Windows® based weigh-price labelers and in-motion case-weight scales. The tool collects and displays data on the availability, performance, and quality of the Ossid machines and also monitors the status of integrated equipment upstream and downstream of the Ossid technology. This real-time data can lead to corrective actions that improve efficiency and bottom line results. (Ossid Booth C-2417)
"The more data you have that is accessible in a wide range of graphical presentations, the easier it is to identify points of weakness within the process," said Mike Alyounes, Product Manager, Ossid. "With corrective action based on accurate information, production numbers go up, downtime is reduced, and the packaging process becomes more profitable."
The OEE tool, which is being sold as a software option, continuously logs data to automatically generate reports about the three major OEE parameters – availability, performance, and quality.

Availability – equipment failures or process failures that stop planned production
Performance – substandard materials or operator inefficiencies that cause operations to be at less than the maximum possible speeds
Quality – produced pieces that do not meet either production plant or customer quality standards and require rework
When analyzing, the data personnel can determine which parameter is affecting OEE the most – availability, performance, or quality. Visual aids such as graphs and filters are used in presenting the data to different levels within the organization. After the sources of inefficiencies are identified, the packaging team can focus on remedies for failure points and bottlenecks.
Ossid developed this software tool to enable customers to obtain the utmost from the company's equipment in each unique environment where that equipment operates. As conditions on the packaging line change, the OEE tool will help ensure that any new and emerging issues effecting availability, performance, and quality are uncovered.
For more information on the new OEE optional tool for Ossid Windows® based weigh-price labelers and in-motion case-weight scales, stop by the Ossid Pack Expo booth C-2417. To learn more about the company's full line of high speed packaging equipment, including weigh-price labelers, overwrappers, horizontal form-fill-seal machines, and in-motion case-weight scales, contact the Ossid sales department at 1-800-334-8369 or visit http://www.Ossid.com.
About Ossid
Ossid, powered by Pro Mach, is a leading North American designer and manufacturer of packaging equipment solutions for fresh and processed protein products, convenience foods, medical devices, and consumer goods. Ossid's principal product lines are weigh-price labelers, case-ready tray overwrappers, horizontal form-fill-seal machines, and in-motion case-weight scales. http://www.Ossid.com
About Pro Mach
Pro Mach is a leading provider of integrated packaging products and solutions for food, beverage, household goods, pharmaceutical, and other diverse consumer and industrial companies. Through multiple business units and related brands, Pro Mach provides equipment, installation, training, parts, and service in primary and secondary packaging, flexible packaging, end-of-line packaging, material handling, and identification and tracking.
Pro Mach has a diverse customer base, from Fortune 500 companies to smaller, privately-held businesses worldwide, which depend on reliable, flexible, technologically advanced packaging equipment and integrated solution sets. Pro Mach is headquartered near Cincinnati, Ohio with manufacturing facilities and offices throughout the United States and Canada. For more information about Pro Mach visit our website at http://www.ProMachInc.com.