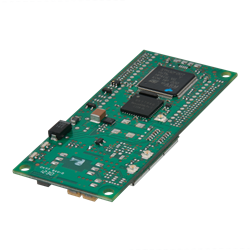 Offering a wide variety of approved communication options using the same Universal Socket footprint is important to our customers. -Gregg Zastrow, Senior Product Marketing Manager
Minneapolis, MN (PRWEB) September 12, 2013
Multi-Tech Systems, a leading M2M (machine-to-machine) communications solutions provider, announced new models of the SocketModem® Cell and iCell family of embedded cellular modems. Each is approved by Verizon Wireless as an end-device, saving customers significant time and costs associated with pursuing approvals. In addition, these modems are now available with either a serial or USB interface and offer options in either 2G or 3G CDMA technologies, providing more flexibility to meet customer needs.
The new SocketModem Cell embedded cellular modems are complete, ready-to-integrate, communications devices that offer 3G EV-DO performance. These quick-to-market communications devices allow developers to add wireless communication to products with a minimum of development time and expense. The intelligence of the embedded Universal IP® stack of the SocketModem iCell allows for automatic/persistent connectivity for mission-critical applications and enhanced M2M functionality including GPS tracking. Both solutions are based on industry-standard open interfaces and utilize Multi-Tech's Universal Socket design.
"Multi-Tech now offers an EV-DO option to the popular SocketModem Cell family," said Gregg Zastrow, Multi-Tech Senior Product Marketing Manager. "Offering a wide variety of approved communication options using the same Universal Socket footprint is important to our customers."
For more information about Multi-Tech's approved embedded solutions, watch this video or read this Embedded Certification Guide. Customers are encouraged to contact their Multi-Tech sales representative to receive a developer's guide that discusses the regulatory and carrier requirements for complete solutions.
About Multi-Tech Systems
Multi-Tech Systems has been delivering industry-leading M2M (machine-to-machine) communications solutions since 1970. With more than 22 million devices deployed worldwide, Multi-Tech focuses on helping customers achieve the shortest path to M2M connectivity – from concept to implementation and total lifecycle management. Whether a project is simple or very complex, Multi-Tech has the resources and expertise to work with any development team to customize a hardware or software solution that maximizes speed to market and return on investment. With carrier-approved external and embedded modems and gateways, Multi-Tech makes it easy and fast to connect your devices to networks anywhere in the world. We work with clients in almost any market to enable cellular, analog, Wi-Fi®, Bluetooth® and GPS capabilities into a solution to achieve superior business results. If we don't have it, we will develop it. Multi-Tech established its reputation for Innovative Designs and Innovative Solutions by obtaining 80+ patents and certifications from more than 30 carriers and over 80 countries. Multi-Tech has made M2M Simplified for thousands of customers around the globe.
Twitter: http://www.twitter.com/MultiTechSys