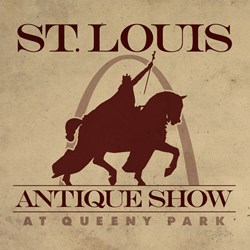 We want anyone who is interested in collecting, or decorating with antiques, to discover something at our event that will put a smile on their face.
Saint Louis, MO (PRWEB) September 16, 2013
Treasure hunters, collectors, "pickers" and decorators with a passion for all things vintage will not want to miss the St. Louis Antique Show at Queeny Park's Greensfelder Recreational Complex, 550 Weidman Road, this Friday through Sunday, September 20-22. This is the only St. Louis event that features top quality antique dealers from ten different states under one roof.
Antique show promoter, Gail Kinney, of Heritage Event Company LLC, says customers looking for quality pieces and unique gifts won't be disappointed. "We select our dealers with quality and variety in mind.  We want anyone who is interested in collecting, or decorating with antiques, to discover something at our event that will put a smile on their face." 
Kinney emphasizes her event is true to its name, featuring only items from days gone by. "You won't find crafts or import items at our show, but you will be able to see thousands of antiques, and visit with dealers who are knowledgeable about what they are selling." One such dealer is George Kuch, of Blue House Antiques, joining the show from Lebanon, Illinois. George and his wife, Clarice, have been selling vintage toys and advertising pieces, exclusively at antique shows, for the past decade. Throughout the year, he travels to several different states. George says he sells, "what I like and what I think someone else would like." He plans to offer many one-of-a-kind pieces at Queeny Park this weekend, including World War I Liberty Bond posters, bakelite jewelry, and a 1920s Tin Chein branded Ferris Wheel toy.  
As the season of festivals and specialty markets begins, many people already have gift-giving on their minds and are looking for something special and memorable to present to loved ones over the holidays. Antique dealer, Wayne Dudley, of Tulsa, Oklahoma, has an offering that many find irresistible: vintage wood print blocks. "This is the start of my busy season. Folks love to sift through my blocks and pick out letters to form family and friend's names, for an interesting gift presentation." Dudley says he loves seeing the delight on customers' faces as they search through his blocks to complete their purchase. "It's like they are working on a puzzle, looking for one final piece to complete their project." Dudley plans to offer the blocks at the Queeny Park Show, but will also bring a variety of other "found objects," including vintage clothing, ephemera and various oddities.
All together, 35 dealers will be bringing a broad range of items to the vintage market, including antique furniture, primitives, art, lighting, linens, glassware, pottery, jewelry, toys, tools, advertising and more. Show hours are: Friday, September 20 - 11am to 6pm; Saturday, September 21 - 9am to 5pm; Sunday, September 22 - 10am to 4pm. Admission cost is $6.00 for adults, $3.00 for children 9-12, no charge for children 8 and under. The fee provides a pass valid for the entire weekend. The event is indoors, climate-controlled, with concessions and free parking.
For more information about the St. Louis Antique Show, call 918-619-2875 or visit Heritage Event Company online at http://www.HeritageEventCompany.com.
About Heritage Event Company
Heritage Event Company was founded in 2009 by husband and wife team, Scott and Gail Kinney, who had experience as dealers at antique shows and flea markets. With a lack of quality antique shows in their hometown of Tulsa, Oklahoma, they decided to put their experience to work and launched the Vintage Tulsa Show. Held annually in the month of February at the Tulsa State Fairgrounds, the event has grown to become the largest antique and vintage event in the state of Oklahoma. After successfully establishing the Vintage Tulsa Show as Oklahoma's "can't miss" antiques event, Heritage Event Company has expanded with shows in numerous states, including Texas, Louisiana, Arkansas and Missouri.