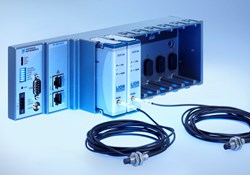 The ECD140 provides direct access to measurement data with no intervening hardware or modules.
St. Paul, MN (PRWEB) September 13, 2013
ECD140 Eddy-Current Displacement Sensors from Lion Precision now offer measurement ranges up to 15 mm. Previously, 3.5 mm was the largest measurement range. "We've added several new probe sizes with larger ranges for the ECD140," according to Don Martin, company president. He adds, "Users of the National Instruments CompactRIO system have enjoyed plug-and-play displacement sensing for their systems, but many need a larger measurement range – now they have it."
Before the ECD140, system integrators, developers and machine designers using National Instruments CompactRIO platform were forced to use external displacement sensing systems plus a data acquisition module to capture the sensor's signal. Martin explains, "That scenario means a lot extra cabling and connections adding to setup headaches and increased potential for failure." The ECD140 is a fully compliant CompactRIO module and provides direct access to measurement data with no intervening hardware or modules. Those familiar with CompactRIO FPGA programming use downloadable drivers to quickly connect to the ECD140 and start making measurements.
The CompactRIO system from National Instruments is an open, expandable system powered by LabVIEW. The system allows hot swapping of a multitude of modules to quickly configure a data acquisition and control system. No other noncontact displacement sensor module is available for the CompactRIO system. For more information on the CompactRIO system, visit http://www.ni.com/compactrio.
In 1958, Lion Precision was the first company to provide capacitive noncontact displacement sensors to industry. The company has expanded its product offering to include eddy-current displacement sensors and some application specific sensors for the machine tool, packaging and PCB industries. Lion Precision is focused on assisting users in sensor implementation by providing technical knowledge resources, expert guidance and optimized systems including custom designs.