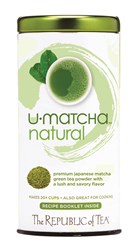 Novato, CA (PRWEB) September 13, 2013
The Republic of Tea, leading purveyor of premium teas, is pleased to announce that two of its popular U•MATCHA teas will soon be available at 38 Whole Foods Market stores in the Mid-Atlantic region. Matcha tea is considered extremely nutrient rich because it is made from tender leaves that are shade-grown and ground to a fine powder. Instead of being steeped, it is blended into water and sipped, ground powder and all.
Starting on October 1, customers (Citizens) can purchase U•MATCHA Natural and U•MATCHA Ginger teas at select Whole Foods Market stores throughout Kentucky, Maryland, Virginia, New Jersey (Marlton and Princeton regions), Pennsylvania, Ohio and Washington D.C.
Both U•MATCHA Natural and U•MATCHA Ginger teas are all natural, Kosher- certified and Certified Gluten-Free.

U•MATCHA NATURAL - Great in lattes and smoothies, U•MATCHA NATURAL creates a rich balance of flavors in baked goods or ice cream. Mix with salt to add a finish touch to savory dishes or try in a spice rub for grilled meats.
U•MATCHA GINGER – A kick of spicy ginger wakes up the flavor of premium matcha. Refreshing as a hot or iced tea and a great addition to ice cream, baked goods, miso soup and stir-fries.
Each tea in the U•MATCHA collection has a suggested retail price of $17.99 for a 1.5 oz. tin with 20 servings and recipe booklet. The U•Matcha™ teas are great when blended into water for sipping, powder and all, or for cooking and culinary uses. The U•MATCHA teas are available at select Whole Foods Market stores, through the company website (http://www.REPUBLICofTEA.com), mail-order catalogue and by calling 800.298.4TEA (4832).
---
About The Republic of Tea:
The Republic of Tea enriches people's lives through its premium teas, education and innovation, as it emphasizes a "Sip by Sip Rather Than Gulp by Gulp" lifestyle. Founded in 1992, The Republic of Tea sparked a specialty tea revolution. Today the brand offers an unequaled selection of the highest-quality teas, herbal blends, books and nature-inspired sip ware, available exclusively at specialty retailers throughout the U.S. Further, The Republic of Tea is mindful of how its actions impact the greater community and actively supports worthy organizations like the Whole Planet Foundation, the Prostate Cancer Foundation, Room to Read, Action Against Hunger, The Ethical Tea Partnership, Rainforest Alliance certification and Non-GMO Project verification. For more information, please visit http://www.REPUBLICofTEA.com or call 1.800.298.4832. Follow The Republic of Tea on Twitter at twitter.com/republicoftea and Like us on Facebook at http://www.facebook.com/RepublicofTea.