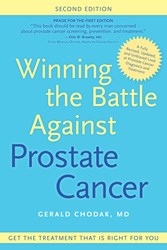 Dr. Chodak has championed the notion that a critical, unbiased evaluation is the only way of addressing the risks and benefits of treatments.
New York, New York (PRWEB) September 13, 2013
In Winning the Battle Against Prostate Cancer, Second Edition (Demos Health, September 23, 2013), Dr. Gerald Chodak eliminates the confusion of choosing a prostate cancer treatment with this honest, instructive, and up-to-date resource for men and their families deciding on the next best steps after diagnosis. Dr. Chodak explains the latest prostate cancer tests, therapies, and drugs in clear, direct language and shares valuable tips on how men can read and interpret new studies on their own to make more informed decisions about their personal treatment plan. Winning the Battle Against Prostate Cancer is a comprehensive, well-rounded, and empowering guide to help men and their families make confident, effective choices in the battle against prostate cancer.
Winning the Battle Against Prostate Cancer includes:

An unbiased, evidence-based overview of all current treatment options for every stage of the disease, based on the latest studies
Information on the side-effects of each treatment and how to determine if it meets your quality of life goals
The right questions to ask your doctor to get the best treatment for you
What is known (and not known) about alternative therapies
Gerald Chodak, MD, is a clinician, educator, and one of the leading experts on prostate cancer. Dr. Chodak has been treating patients with prostate cancer since 1981 and was a full-time faculty member at the University of Chicago for 18 years until forming the Midwest Prostate and Urology Health Center in 1999. He helped form the first chapter of Us TOO, the international support group for men and their significant others with prostate cancer. He maintains a prostate educational website at http://www.ProstateVideos.com.
AUTHOR IS CURRENTLY AVAILABLE FOR INTERVIEWS.