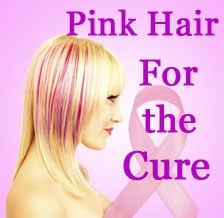 Pink Hair Extensions are a popular addition to breast cancer walks
Keene, NH (PRWEB) September 13, 2013
October is nearly here and soon pink will be everywhere you look. That means it's time for salons to stock up on pink hair extension supplies to be ready for the demand.
Lynn Symonds, owner of Vision Hair Extensions says, "Each year we sell increasingly more pink hair extension. They are a very popular addition to Breast Cancer Walks and other fundraisers. I recommend getting the pink extensions early because they tend to sell out by mid October."
Most of the pink hair extensions Vision sells can be purchased for under $2 each and sold for $10-$15 each. Vision encourages a portion of the profit from each sale to be donated to the breast cancer group of their choice.
Vision Hair Extensions will donate 50% of all pink hair profits to the Susan G. Komen for the Cure. Pink hair extensions are a great way for salons and breast cancer organizations to raise money for breast cancer research.
Vision Hair Extensions
Suppliers of keratin tipped hair extensions
640 Marlboro St, Keene, NH
603-358-0090
http://visionhairextensions.com