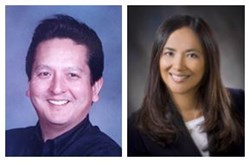 Greg and Shirley Umamoto have a proven track record of building dynamic sales teams.
Grapevine, TX (PRWEB) September 16, 2013
USHEALTH Advisors announces the addition of Greg Umamoto and a trio of high-caliber sales leaders who will be focused on building a virtual USHA sales team based in California. The move reunites Mr. Umamoto, along with his wife and business partner Shirley, with Troy McQuagge, who serves as President and CEO of USHA.
"I've known Greg and Shirley for many years," said Mr. McQuagge. "We've already built one world-class company together, and I am happy to be working with them again, as we work toward eclipsing our previous success by taking USHEALTH Advisors to unparalleled levels of achievement."
Greg and Shirley Umamoto, together with Bill Bailey and Rachel Tran, will form the nucleus of the Umamoto Division. With offices near San Jose, San Francisco and Santa Barbara, the Umamoto Division will concentrate on building an internet-based sales team that can serve customers throughout the United States. Mr. Umamoto is a 24-year veteran of the health insurance industry. He has been recognized with prestigious career awards including President's Council District Sales Leader and President's Council Division Sales Leader. The Umamoto Division has achieved in excess of $120 Million in career sales volume.
"Greg and Shirley Umamoto have a proven track record of building dynamic sales teams," said USHA Sr. Vice President Bill Shelton. "USHA's business model equally supports both face-to-face and virtual sales so this is a perfect fit for all of us. I'm very excited to be working again with Greg and Shirley, as they build an exceptional California-based internet sales team that can distribute our unique product portfolio to customers in multiple states."
USHEALTH Advisors markets to the self-employed and individual marketplace, USHEALTH Group's full line of health and supplemental insurance products underwritten by its wholly-owned insurance companies. The company has experienced significant growth since 2010. USHEALTH Group's strategy is centered on its portfolio of excepted benefit plans and supplemental insurance products in the individual insurance marketplace.
"The newly formed Umamoto Team is a true asset to our company," echoed USHA President and CEO Troy McQuagge. "They understand that we are in the business of helping and serving others, and they strive to deliver on that promise for every one of their customers. I could not be more pleased to have Greg, Shirley, Bill and Rachel representing our company and our products in the marketplace."
About USHealth Advisors, L.L.C.
USHEALTH Advisors was founded in 2009 as Security Health Advisors, L.L.C. It is a wholly-owned national health insurance distribution arm of USHEALTH Group, Inc. The company sells individual health coverage and supplementary products underwritten by The Freedom Life Insurance Company of America and National Foundation Life Insurance Company, wholly-owned subsidiaries of USHEALTH Group, Inc. The company is focused on serving America's self-employed, small business and individual insurance market through its captive Agent sales force.
About USHEALTH Group, Inc.
USHEALTH Group, Inc. is an insurance holding company based in Ft. Worth, Texas focused on providing innovative health coverage for self-employed individuals and small business owners. The goal of USHEALTH is to combine the talents of its employees and agents to market competitive and profitable insurance products, while providing superior customer service in every aspect of the company's operations.