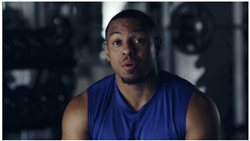 Ft. Laudedale, Fl (PRWEB) September 12, 2013
Brandon's story continues to get out there and inspire short athletes. His recent documentary made headway on Yahoo, and is Trending there. Check it out here.
He also had his interview with David H. Katz of Yahoo featured on AskMen.com. He provides a lot of insight into the fitness plan, and how to get started.
Brandon Todd stated when asked about Lebron James in an article by David H. Katz of Yahoo Sports: "How much better might the King's game be if he decided to use FlytRight this offseason?
"Don't even get me started," Todd jokes. "His vertical would be mid-50's, easy. If LeBron took the challenge and did my program, he'd never have to shoot a jumper again.
Todd has faced Lebron on multiple occasions as high-school athletes, and was even first team all-Ohio alongside Lebron James 2 years in a row. To see the article, click here.
To Learn more, check out http://www.brandontodd.tv.