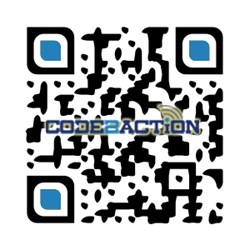 Wakefield, MA (PRWEB) September 13, 2013
Code 2 Action, Inc. "C2A" a subscription based, in the cloud, mobile mobile marketing Company that has developed a proprietary mobile media solution, has been invited to present at the National Investment Banking Association's (NIBA) Fall, 2013 Investment Conference to be held in New York City, Sept 16-18, 2013.
Christopher Esposito, CEO commented, "Since the official release our complete end to end mobile marketing platform in late April 2013, C2A is near approaching 100 business accounts in over a dozen industries, including financial conference and event planners. The opportunity to present at the NIBA Investment Conference will provide Code 2 Action, Inc. the forum to display its proprietary technology to the investment community. This will be the Company's first public financial presentation, we look forward to developing strong financial alliances to continue the growth of our business model and expand our sales and marketing efforts as the Mobile Advertising Industry continues its accelerated growth that is anticipated for many years to come."
NIBA is a national not-for-profit trade association of regional and independent brokerages, investment banking firms, institutional investors and related capital market service providers. Since its inception, NIBA member firms have successfully completed over 1000 equity offerings totaling approximately $10 billion in new capital for America's finest emerging growth companies. The member firms of NIBA represent over 8800 registered representatives with an estimated $78 billion in assets under management, and are responsible for 90% of all Initial Public Offerings under $20 million.
NIBA conferences provide a venue for invited companies to share meaningful insight into their business operations, short and long-term growth strategies and industry vision, and give its members the opportunity to exchange ideas and information, evaluate presentations made by public and private companies seeking capital or exposure, collectively voice their positions on issues impacting the securities industry, and enhance their knowledge and expertise through ongoing education programs designed to enable them to remain competitive in today's financial markets.
See our demo by either scanning the QR code or simply text the number 71441 and in the message box enter C2A and send.
WHO:
Christopher Esposito - Chairman and CEO
Scott Milbury - President
WHEN:
September 16 - 18, 2013
WHERE:
The Roosevelt Hotel
45 East 45th Street at Madison Ave.
New York, NY 10017
About Code 2 Action, Inc.
C2A a subscription based, in the cloud, mobile mobile marketing Company that has developed a proprietary mobile media platform provides the next step in mobile marketing and advertising solutions. This new and exciting mobile marketing platform enables businesses of all sizes to easily incorporate high-definition audio and video into their existing print advertising as well their existing social media campaigns using custom branded QRV codes (quick response video) and SMS Text short codes.
Through our technology platform, and augmented by the use of custom branded QR (quick response) codes and SMS short codes, C2A enables businesses to create unique customizable personal audio and video advertisements, commercials, podcasts and presentations that are accessible via smart phones worldwide. Similar to a traditional email campaign C2A builds an "OPT IN" database through either scanning or texting. Our exclusive and custom call to action pages will direct clients' customers to desired "actions" based upon the businesses' unique requirements. Typical actions would include: "purchase product or service," "download a discount coupon", "request a quote", "make an appointment, reservation or donation", "get directions or contact information", "see customer reviews and testimonials", "go to our website" or "go to any social media such as Facebook and Twitter". C2A has the ability to redirect to a custom mobile website which C2A designs and creates where the end user has the ability to save to their smart phone as an APP to their home screen.
The platform sequence is enables businesses to engage the viewer with a customized audio/ video message and drive the potential customer to a call to action page to transact. Every OPT-IN added to our customer's database can now be reached back via text/SMS with future deals, sales, mobile coupons, text-to-win campaigns, reminders, events and offers. C2A also has created a audio /visual experience like no other in the market today allowing the client to use a series of scrolling images, logos with a professional voice over which can be updated from anywhere in the world by simply leaving a voice mail.
For more information please visit http://www.code2action.com or text our short code number 71441 and in the message box enter the word C2A and send.
CONTACT:
Christopher Esposito or Scott Milbury
617-206-3300 or via email at info(at)code2action(dot)com