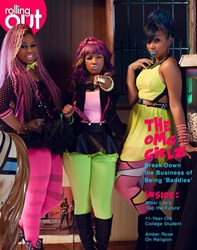 OMG stands for Officially Miss Guided.
Atlanta, GA (PRWEB) September 12, 2013
Genteel and gorgeous, the pint-sized members of the OMG Girlz are known for their love of all things glamorous, which compels fans to emulate their saucy style. Moreover, their feel-good, age-appropriate music makes fans flock to the trio individually known as Star, Baby Doll and Beauty.
They're average teens; they love to keep their lips lacquered in MAC and Lush cosmetics and they love to experiment with hair dye — from bubblegum pink to aqua and violet.
"OMG stands for Officially Miss Guided, so we're on the right path and going in the right direction. With that being our headlining statement we just want to make great music that you can move to that doesn't have cursing and put out great messages [that] shows that we're just regular teenagers in the spotlight. Every picture we take and every move we make, we're just very cautious of it for our fans," Beauty shares during an interview with entertainment journalist Danielle Canada.
Visit rollingout.com to read the interview in its entirety. Be sure to check out the exclusive photo shoot and video footage with celebrity photographer DeWayne Rogers.
About rolling out Magazine:
Rolling out, the nation's largest free urban weekly, is a digital and print magazine that focuses on the black experience in response to entertainment, politics, fashion, culture, sports and lifestyle points of interest. Headquartered in Atlanta, rolling out is positioned as the voice for the African American experience, using its newspaper as a platform in the marketplace to express urgency for education reform, and to document entrepreneurial endeavors and other relevant issues in the Diaspora. For information on rolling out, please log on to rollingout.com.