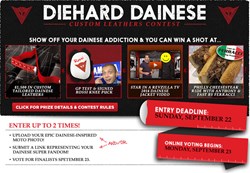 Dainese and RevZilla have always embraced creativity in our relationship... it will be unforgettable for the winner.
Philadelphia, PA (PRWEB) September 13, 2013
Leading online motorcycle apparel retailer RevZilla.com is spreading their love for all things moto with their latest contest featuring an explosive prize package headlined by a custom-fitted set of premium Dainese leathers worth over $2000. On September 6, 2013, RevZilla launched the Diehard Dainese Custom Leathers contest, open to motorcycle enthusiasts willing to share photographic and/or web-based evidence of their fanatical addiction to the Italian motorsports apparel brand.
Known for engaging bike enthusiasts in unique ways, RevZilla has prompted contestants to follow in their tracks by exhibiting a flair for fun, a love of riding, and a passion for one of the most storied and winning brands in the world. A closer look at the prize package RevZilla is offering for its Diehard Dainese contest certainly gives entrants a good reason to rev their engines.
The winner will be flown to Philadelphia for full-throttle Day of Zilla madness on October 8, including lodging. The winner will ride with RevZilla founder Anthony Bucci to lunch for an authentic Philly Cheesesteak, followed by a thrilling Ducati ride courtesy of Fast by Ferracci. From there, the winner will star in a RevZillaTV video feature for a 2014 Dainese jacket. After receiving an autographed knee puck signed by racing legend Valentino Rossi, the winner will wind down the day while being measured for custom Dainese leathers of their choosing -- a once-in-a-lifetime opportunity to receive a hand-measured jacket, suit or pants by Dainese's own Italian racing tailor.
"Dainese and RevZilla have always embraced creativity in our relationship with each other and our respective rider followings," said Bucci. "The chance to team up and provide a new style of super-fan experience that culminates in a true, race-bred custom heirloom was a natural progression. It will be unforgettable for the winner."
Fans have two opportunities to enter RevZilla's Diehard Dainese Custom Leathers Contest. They either can upload an original image to RevZilla's contest page website and / or upload the URL to a self-produced Public Display of Addiction to the Dainese brand such as a YouTube or Vine video, blog post, or other piece of web content.
Deadline for entry is September 22. All entries will be displayed on RevZilla.com and, beginning September 23, RevZilla's legions of online fans can begin voiting for their favorites. The winner will be announced on October 1. No purchase is required to enter.
About RevZilla:
RevZilla Motorsports, LLC is a the leading online destination for motorcycle helmets, apparel, parts and accessories, as well as one of the fastest growing media resources for motorcyclists worldwide, known for their content, video, and rider-centric expertise.