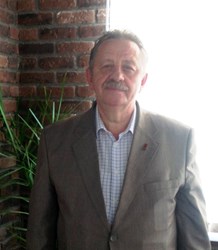 Milano (PRWEB) September 20, 2013
MWH Global –the wet infrastructure sector leader and provider of strategic consulting, environmental engineering and construction services - has been appointed technical advisor to the "Capacity building project" promoted by the Belarusian Renewable Energy Association (BREA) to boost the renewable energy sector in Belarus.
The project is funded by the Central European Initiative, in part to the Italian government's contributions, and initiated by the European Bank for Reconstruction and Development (EBRD).
The project's primary goal is to strengthen the international cooperation capacity of BREA by raising awareness about the Belarus market potential and attracting foreign investors. Belarus regulation is supporting the development of the energy sector by enabling an energy mix diversification and increasing the use of internal resources.
According to the data released by the National Agency of Investment and Privatisation, different renewable energy sources are distributed as follows: 1,600 MW of wind energy potential against 2.4 MW which have already been installed; 850 MW of hydropower potential against 161 MW which have already been put into operation. Last but not least, biogas and biomass – which are widespread and widely exploited sources– with an overall capacity of 131 MW and of 60 MW for biogas and biomass plants respectively .
Besides the above-mentioned data concerning energy potential are the incentive governmental policies, such as for example the guarantee from the State to purchase renewable energy at shadow tariffs (feed-in tariffs), and the commitment from the State to safeguard the mechanisms of free market competition.
According to Vladimir P. Nistiuk – BREA Chairman - Belarus undoubtedly represents a country offering many opportunities for the future years: "Today the most developed renewable sources are biomass, biogas, wind energy, hydroelectric energy, solar thermal energy and geothermics. As for biogas and biomass we own our know-how and some of our partners produce dedicated plants. On the other hand, components from China, Poland and Germany are purchased for the production of wind energy plants – mainly small wind energy, because of the poor windiness of some areas. As for hydroelectric energy, today, the Grodna station represents a best practice of ours, and two similar solutions are being built. In the field of solar thermal energy we only install panels coming from China and Germany, while some projects in collaboration with Austria and Switzerland have been completed in the geothermics sector."
BREA is made up of 56 members, 12 of which are foreign partners, who are representatives of Producers' Business Associations (for instance Ukraine and Poland). Other members are private companies producing components and technological solutions suitable both to the initial and final steps of the energy production process. The Partners are divided into three commodity categories: renewable energies, energy efficiency and ecology.
BREA's activity mainly consists in facilitating the acquisition of functional licences and permits from the Belarusian Authorities, and all of this aims at new installations. Moreover, BREA helps find potential technology partners and/or providers of suitable components on the market. Such components must meet the requirements of those choosing Belarus as potential place to outsource their own production from renewable sources; they must also be attractive for foreign investors who want to get good business results. In both cases, BREA is able to provide administrative and legal consultancy services necessary to the achievement of the goal.
Despite the growing trend of the renewable energy sector in Belarus, BREA companies still have to face many issues in order increase the production and distribution of energy. Vladimir P. Nistiuk said: "It is fundamental that our members work together with companies and Governmental Authorities in order to create effective sector regulations covering both technical and market issues . In 2007 the development of renewable energies was remarkable, but - on the other hand – it was not well coordinated because of the lack of regulations that could follow the industrial development taking place over the past few years.. In Belarus there are no standard regulations and for this reason authorization procedures are long. The consequence is that even potentially interested investors are discouraged. Poor technical skills cause a shortage of critical awareness of the responsible Authorities, which should consider the opportunities and the benefits connected with the growth of renewable sources of energy".
Mr Nistiuk 's considerations and market potential will be debated during two upcoming events:

The BREA Press Conference on 6th November 2013 in Rimini (Italy), where the project will be presented at the Ecomondo exhibition venues;
The Investment Forum scheduled for March 2014 in Minks, which will be attended by Agencies, Institutions, Belarusian Authorities and private companies.
About BREA
BREA was established in 2009 as a non-for-profit association of legal entities and individual entrepreneurs. The range of focus of the Association includes: wind, hydro, solar energy, bioenergy technology implementation in all its forms, the use of geothermal energy. The Association has currently 58 members including public and private entities and individual entrepreneurs from Belarus, Russia, Germany and Austria and other EU Countries (e.g. Saint Gobain). The number of members is steadily growing (see also http://www.energy-aven.org) only for Belarussian dispatch.The aim of the Association is to provide legal, informational, advisory and promotional support of the market in the field of energy efficiency, renewable energy and related services to these activities. The Association also aims at establishment and expansion of international links between domestic and foreign organizations working in the field of renewable energy and related services to these activities, the exchange of best practice energy efficiency and renewable energy in collaboration with public and private organizations.
About MWH
MWH Global is a strategic consulting, technical engineering, environmental and construction services firm leading the wet infrastructure sector. Offering a full range of services and innovative, award-winning solutions beginning in the initial planning phases through construction and asset management, we partner with our clients in multiple industries to implement projects and programs that focus on water, energy, natural resources and infrastructure. Our nearly 8,000 employees in 35 countries spanning six continents are dedicated to fulfilling our purpose of Building a Better World, which reflects our commitment to sustainable development. MWH is a private, employee-owned firm with a rich legacy beginning in 1820. For more information, visit our website at http://www.mwhglobal.com or connect with us on Twitter and Facebook.
For any information or contact:
Maria Grazia Persico
Marketing&Communication Expert
Mail: mgpersico(at)mgpcomunicazione(dot)it
Tel. +39 02 55199416 - +39 335 6469568