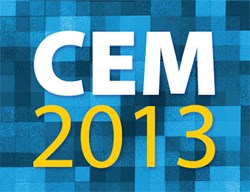 The CEM Summit bridges the gap between marketing methodology and the emerging technology marketers need to put it into practice
Atlanta, Georgia (PRWEB) September 12, 2013
PossibleNOW, the leading provider of customer experience and enterprise preference management solutions, today announced the full agenda for its 2nd annual Customer Engagement Marketing (CEM) Summit scheduled to take place September 26-27 in Atlanta. The CEM Summit will focus on customer personalization, engagement and preference management and will feature speakers from global brands including Ernst & Young, LexisNexis, SAP, Chick-fil-A and more.
"This event bridges the gap between marketing methodology and the emerging technology marketers need to put it into practice," said Scott Frey, CEO of PossibleNOW. "We look forward to building on last year's success with some of the biggest brands and most experienced speakers in the field."
The conference will open with a presentation from Chick-fil-A Interactive Digital Marketing Manager Michael McCathren on customer loyalty driven by investment in relationships, not just transactions. Later, Scott Olrich, President of Marketing and Platform at Responsys, will speak on New School Marketing and the new breed of digital consumer. Eric V. Holtzclaw, PossibleNOW's Vice-President and General Manager of Preference Management Consulting, will lead a discussion on the future of preference management and its application to profiling, personalization and insights on the motivations and habits of consumers.
The event will also feature marketing pioneer Ernan Roman and dynamic presenters from companies including Thomson Reuters, Lenovo, Comcast, Responsys, MassMutual Financial Group and more.
With a focus on the critical roles that personalization, engagement and preferences play in executing high impact global marketing campaigns, the CEM Summit will include expert panels, roundtable discussions and networking events. To view the full agenda, register for the summit or learn more about featured speakers, go to http://www.cemsummit2013.com.
About PossibleNOW
PossibleNOW, headquartered near Atlanta, Georgia, is the trusted source for enterprise preference management and compliance solutions. PossibleNOW leverages its expertise in information technology, database management, customer engagement, and consumer privacy and regulatory compliance to provide SaaS-based applications. PossibleNOW's MyPreferences® is an enterprise preference management solution that effectively collects and manages the contact preferences of customers and prospects including servicing, privacy, marketing (opt-in and opt-out) across all marketing channels and makes the preference data actionable. MyPreferences can be integrated into existing applications such as CRMs. The DNCSolution® suite of SaaS-based services provides comprehensive tools that help direct marketers comply with federal and state Do Not Contact legislation (Do Not Call, Do Not Fax, Do Not E-mail, Do Not Mail). For more information, call (800) 585-4888 or (770) 255-1020, e-mail info(at)possiblenow(dot)com or visit http://www.possiblenow.com.
###