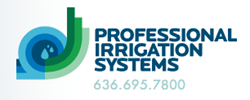 St. Louis, MO (PRWEB) September 16, 2013
Winterizing an irrigation system is important to avoid costly damage to your system during the freezing winter temperatures. The irrigation system professionals at Professional Irrigation Systems recommend that home and business owners hire a professional to winterize their systems. Taking the time to winterize all parts of the system will ensure that the system has a long life span and will save irrigation system owners money.
There are several irrigation system winterization techniques, which vary depending on what kind of irrigation system is installed. These techniques include the manual drain valve method, the automatic drain valve method and the compressed air blow-out method. The air blow-out method performed by professionals, ensures that there is no extra water in the irrigation lines, valves and sprinkler heads that can freeze resulting in breaks and water damage to the system.
About Professional Irrigation Systems: Professional Irrigation Systems was established in 2001 and is based out of Lake St. Louis. For the past 12 years, Professional Irrigation System's priority has been giving customers irrigation systems that save time, money, and water. Professional Irrigation Systems always take the time to ensure that the best system is installed for the customer's home. Educating customers on how there system works also makes Professional Irrigation Systems stand out from the competition. Serving St. Louis irrigation systems owners, Professional Irrigation Systems provides highly-rated customer service.
In March of 2012 Professional Irrigation Systems joined forces with Water Tech Irrigation in South County to form the best service company in the Metro St. Louis area as voted by an independent agency. Water Tech Irrigation has been in business since 1986 and is one of the most highly respected companies in the irrigation industry. For more information on Professional Irrigation Systems, Please visit the homepage at http://www.proirrigation.com or call 636.695.7800.
(30)