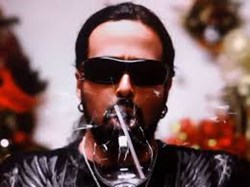 Take UV-Aid during the day and you will be ready for the stage at night.
(PRWEB) September 16, 2013
Jaime Vendera, famous for becoming the first person in history to be recorded breaking a glass with his voice on MythBusters, uses UV-Aid to maintain his crystal clear tone and recommends UV-Aid to all singers. Jaime evaluated UV-Aid in a real world setting and tells how it's effectiveness exceeded his expectations.
"I ordered a UV-Aid to test it during a trip to Vegas where I was filming a series of instructional videos for a magazine. I hooked my UV-Aid to my key chain (yes, it's very handy and portable) and boarded the first plane. My sinuses had been a little stuffy a few days before and I had totally forgotten to use the UV-Aid. As I was sitting on the plane I felt a small tickle in my throat. Adding to the stuffy sinuses, I did get a bit concerned, and then I remembered the UV-Aid, which I hadn't tried to use until this point. I shined UV-Aid into my throat and turned on the light. 20 seconds later, I allowed UV-Aid to visit each nostril... I was asked if it worked. I swallowed hard and noticed the tickle was gone. So, my answer was YES. My sinuses were still stuffy, so I continued to use UV-Aid. By the time I landed, I actually felt great; the tickle had not returned and my sinuses were beginning to open up. In fact, I am so impressed with UV-Aid that I also picked one up for my good friend, Myles Kennedy (Slash, Alter Bridge). Myles is a touring freak and I figured he could use one on the road. Singers, you all could use one too...Take it during the day and you will be ready for stage at night!"
Myles Kennedy has a rare voice possessing a four-octave vocal range and sings with the former member of Guns N' Roses, Slash.
Watch Jaime's incredible UV-Aid story on YouTube.
About UV Technology, LLC:
UV Technologies, LLC's mission is to utilize nature's light to promote health and well-being. UV-Aid helps prevent colds, flu, sore throats, sinus and ear infections through the process of photo-oxidation. Hydrogen peroxide is produced in areas susceptible to infection. UV Technologies offers other innovative products for its customers to live a healthier and more productive life including iTanSmart, an app. designed to prevent sunburns and monitor sun exposure.