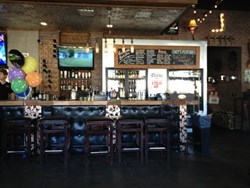 Fort Worth, TX (PRWEB) September 13, 2013
Leading commercial furniture distributor Restaurant Furniture.net recently teamed up with trendy, Fort Worth gastropub Reservoir to a successful grand opening.
Located just west of Downtown Fort Worth, Reservoir offers a Modern, Industrial, patio driven Gastropub. Their menu is an integration of bar and spirits meshed with Southern Comfort favorites as well as fresh from scratch brick oven fired pizzas. With two full service libation bars, 38 HD TV's, draft beers, and the most encompassing patio experience anywhere, Reservoir is a popular destination for entertainment, good food and drinks.
Their menu offers entrees with fresh ingredients, seasonable flavors, palatable pours and thirst-quenching brews, which all fuse together to create a unique culinary experience in a cordial setting. Locally grown ingredients are a staple at Reservoir, making it a truly local experience.
In a short period of time, Reservoir solidified its place as the new hot spot to watch sports and enjoy excellent unique food and drinks. Reservoir is equipped with 38 HD TVs that ensure you can see the game whether you are sitting in one of the raised booths along the inside wall, at one of the two bars or out on the patio.
Reservoir has a modern, industrial decor. They needed high quality commercial seating that would look not only look great but also blend in with the upscale décor. Premium quality and strong built furniture is also very important since they get high traffic. Restaurant Furniture.net has a a reputation for being a trusted source for high quality furniture at affordable prices and was happy to team up with Reservoir.
They decided to go with classic, modern, yet elegant Beechwood Curve Plain Back bar stools and matching Backless Wood bar stools in dark mahogany with black vinyl seats. The Beechwood bar stools are made of solid European beech hardwood construction, the wood bar stools and chairs are available in 5 standard finishes: mahogany, walnut, natural, cherry and dark mahogany. The bars stools sell for $69.99 and the backless bar stools sell for just $65.00 Restaurant Furniture.net also makes custom finishes for an additional charge. The vinyl padded seats, which are made in the U.S.A. are available in vinyl or fabric in a wide selection of colors and patterns and can also be custom made out of any material to the customer's specifications. Solid wood seats are also available for an extra charge of only $5 each.
Browse Restaurant Furniture.net's full selection of commercial grade chairs, bar stools, table tops, table bases, booths and patio furniture at http://www.restaurantfurniture.net or talk to a customer service representative at (888) 409-1115.
Reservoir is located at 1001 Foch St. in Ft. Worth. They can be reached at: (817)334-0560 or you can visit their website at http://www.bar-reservoir.com.