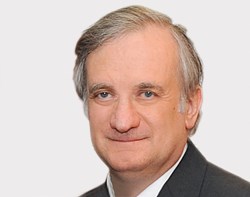 Portland, OR (PRWEB) September 12, 2013
Dr. Wolfgang Feist will speak with the public at two receptions, one at 4 p.m. and the other at 7 p.m. at the offices of event sponsor Earth Advantage. Earth Advantage is located at 808 SW 3rd Avenue, 8th floor, in downtown Portland. Both receptions are free, and light refreshments will be served.
Other event sponsors include The Small Planet Workshop, a building supplier specializing in passive house and zero energy buildings; Passive House Northwest, a nonprofit dedicated to the spread of passive house buildings in the region; and for the 7 p.m. event, Zeitgeist Northwest, a nonprofit that provides a link to modern German culture, the German language and the arts.
Earlier in the day, Feist will visit several buildings, both completed and under construction, that meet the passive house standard. He will visit the site of the Kiln Apartments (formerly called the Payne Apartments) on North Williams Avenue, one of the first multi-unit dwellings in the United States designed to meet the passive house standard. He will then perform the groundbreaking at Ankeny Row, a development of townhouses on SE 28th Avenue. Later, he will visit the first known passive house retrofit of adaptive reuse commercial space in the country, the Xico Upstairs meeting and event space on SE Division Street.
Feist developed the passive house concept jointly with Swedish academic Bo Adamson in 1988. The first passive houses were built two years later in 1990 in Darmstadt, Germany. Feist later founded the Passive House Institute in 1996 in Darmstadt to provide guidance and standards to others who want to design and build using the passive house concept. Born in 1954, Feist is currently a professor for structural engineering and building physics at the University of Innsbruck in Austria.
About Earth Advantage
Our mission is to accelerate the creation of better buildings. We use an innovation model that transforms our real-world experience into products and services that advance building performance. Earth Advantage certifies, researches, educates, and incubates to help realize a building industry that harmonizes with the natural environment.