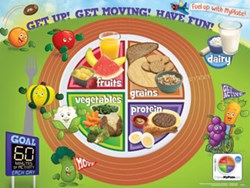 The solution lies in education and awareness. When people understand the facts and have the right tools, they can take action.
Owatonna, MN (PRWEB) September 12, 2013
September is National Child Obesity Awareness Month, highlighting a national epidemic that affects one-in-three American children who are overweight or obese.
Since the 1970s, obesity rates among U.S. children have tripled. Millions of young people are now facing increased risk of serious illnesses that were previously seen only in adults, including Type 2 diabetes, heart disease, high blood pressure, stroke, asthma and some types of cancer.
However, recent studies published by the Centers for Disease Control and Prevention (CDC) show some modest progress in combating this problem. The CDC reports obesity rates among children holding steady after decades of sharp increases and even decreasing slightly among some preschoolers in 19 states and territories.
"Although this success is limited, it shows we can reverse childhood obesity," said Learning ZoneXpress (LZX) Founder Melanie Nelson. "The solution lies in education and awareness. When people understand the facts and have the right tools, they can take action."
Educators play a critical role in providing information to families, and the materials they share can help promote life-long healthy habits.
With this in mind, LZX offers two engaging educational products focused on combating obesity.
First is the Active Kids MyPlate Poster designed to encourage kids to "get moving." Colorful and inviting, the 24" x 18" laminated poster incorporates a sports theme as well as hero characters to promote both healthy food choices and 60 minutes of daily physical activity.
A second kid-friendly product, the Active Kids MyPlate Handout, features the same theme and messaging presented in a smaller format. Ideal for distributing directly to children and families, the 8 ½" x 11" two-sided handout is available in a pack of 50.
Educators and consumers may order these items on the LZX website (hyperlink where you would like them to land).
About Learning ZoneXpress
Learning ZoneXpress, based in Owatonna, Minn., is a leading source of award-winning nutrition education tools. Its mission is to help improve the health and vitality of people through relevant, creative and affordable learning tools about healthy behaviors and nutrition. Learning ZoneXpress offers a wide variety of educational products including posters, handouts, videos, games and lesson plans. For more information about Learning ZoneXpress, visit its website or call Toni Meyer at 888-455-7003.