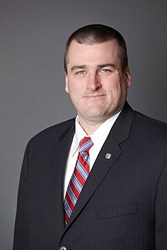 We have seen throughout the years there are obvious landmarks which are targets and locations which can become targets.
New York, New York (PRWEB) September 13, 2013
Security directors are well aware of the need for regular review of security practices to ensure visitors, guests and employees remain safe. Thorough assessment and regular training are successful components of any plan to reduce vulnerabilities. GEG provides risk assessments conducted by trained law enforcement personnel with first response and emergency training as part of its strategy to protect hotels and high rise buildings. New security management programs to specifically address the challenges buildings face have been added as the threat climate is always in flux. "We have seen throughout the years there are obvious landmarks which are targets and locations which can become targets for unknown reasons. It is this hit or miss possibility that building safety directors need to address. Day to day activities cannot be overlooked either; a possible threat condition can take place at anytime. Our programs provide outside training and support as well as offsite law enforcement expertise standing ready to assist or complement an overall plan," stated William McGuire, President and CEO of Global Elite Group (GEG), Garden City, N.Y.
The GEG programs for property owners are customized and offer added protection services such as bomb detection during events and VIP visits, employee access control plans and seasonal strategies. "The future of hotel and building security includes the constant review of its approach to safety and the update of available technology which assists in the overall security of the complex," McGuire explained. The GEG approach reviews all aspects of building and occupant activities, the risk assessment process can include a GEG annual review with written recommendations for supplemental activities to meet existing industry best practices. "The industry's approach to building safety is constantly changing, GEG security consultants are former members of the law enforcement community and GEG has successfully provided security to events on the world's stage," McGuire stated.
Not all complexes however will be exposed to high profile visitors or large scale events. Often complexes have subtle safety concerns such as how to address unruly guests, employee thefts is located in the vicinity of a complex which does host high profile visitors, events and overflow is a concern. "GEG found during Occupy Wall Street many under the radar businesses in the area had great concerns for their employees. Being able to summon up a plan to protect employees and property while going through a stressful event is not always possible, our programs help alleviate that burden."
New approaches to security, that can meet nearly all budget constraints a safety director may have, include card access systems to monitor employee movement and to limit access to areas which should be off limits. Access control systems are available at many price points and can provide monitoring to help control liability issues and thefts. In addition to card access systems, CCTV with analytics and alerting capabilities provide instant review should an incident take place. GEG can make recommendations based on a risk assessment for system upgrades. GEG understands the "inner workings" of residential and corporate complexes, having a company with a menu of services to meet the emergency demands on short notice ensures continuity. "Not all emergencies can be planned; that is why we are here."
About Global Elite Group: With offices located throughout the world, the company provides security and emergency management services for companies of all sizes and is known for its emergency contingency planning in all markets and its aviation security programs for over 28 airlines located in the U.S. and abroad. The company is always expanding service offerings to compliment the security needs of individuals, companies, high profile travelers and events. The company is TSA certified to provide screenings to individuals and groups. Global Elite Group is a full-service event security management company with security details available for deployment to cover small venues to large-scale multi location events. Other services include risk assessments and asset protection.