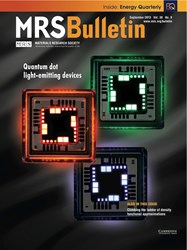 Warrendale, PA & New York, NY (PRWEB) September 13, 2013
The future of two energy-hungry stalwarts of the building industry and infrastructure industry comes under scrutiny in the latest Energy Quarterly (EQ) section of the September 2013 issue of MRS Bulletin.
Two articles in EQ, "A concrete path to sustainability" and "A test of the steel industry's metal," ask whether cement and steel production can be made environmentally friendlier for future human infrastructure by current human innovation. Given their current poor carbon credentials, can they and their production be cleaned and greened enough to make them viable in a world working towards carbon neutrality?
Steel and cement, two of the most important materials developed by humans, are not going away any time soon, and in fact are here for a long time to come. They also leave a large carbon footprint. World production of cement presently stands at roughly 4 billion tons and accounts for 8% of global carbon emissions. Making a ton of cement emits roughly 0.8 tons of carbon dioxide. The article on cement explores energy-saving and carbon emission reduction efforts in different parts of the world including Cuba, India, U.K. and U.S.A.
The demand for steel is no less, with steel manufacturing consuming 5-6% of all globally generated power and creating 6.7% of carbon dioxide emissions. Cement's global energy consumption is even higher. Gopal R. Rao, Editor of MRS Bulletin, states, "When comparing the global energy consumption of cement and steel production, cement has nearly double the global energy consumption--roughly 12-15%." Alternatives to the traditional blast furnace-based production of steel are explored in the EQ article on steel.
Serious efforts to tackle these energy consequences are underway around the world, leading both EQ articles to conclude that humans are equal to the challenge of creating the clean, green steel and cement of the future. As V.S. Arunachalam states in his editorial in this EQ, these iconic materials still offer "the wherewithal for building a prosperous and equitable industrial world."
This issue of EQ also includes a fascinating interview with Millie Dresselhaus of MIT, also sometimes called the 'Queen of Carbon Science.' Dresselhaus has played a major role in research on carbon nanostructures over five decades, and worked on graphene before it became the "hot" topic that it is today. In this interview, she discusses graphene and carbon nanotubes, her two landmark papers on the role of nanostructuring in thermoelectric materials, as well as her views on hydrogen as an energy source.
All three articles are available for free at journals.cambridge.org/EQSept13.
Published by Cambridge University Press on behalf of the Materials Research Society, EQ offers the latest news and analysis on materials solutions to energy challenges.
ENDS
Notes to Editors
For further information, or to arrange interviews, please contact:
Anita B. Miller
Tel: 724.779.2754
Email: amiller(at)mrs(dot)org
Joon Won Moon
Tel: 212.337.5941
Email: jmoon(at)cambridge(dot)org
About the Materials Research Society
The Materials Research Society (MRS) is an international organization of over 16,000 materials researchers from academia, industry and government, and a recognized leader in promoting the advancement of interdisciplinary materials research to improve the quality of life. MRS members are engaged and enthusiastic professionals hailing from physics, chemistry, biology, mathematics and engineering-the full spectrum of materials research.
Headquartered in Warrendale, Pennsylvania (USA), MRS membership now spans over 80 countries, with more than 40% of members residing outside the United States. In addition to its communications and publications portfolio, MRS organizes high-quality scientific meetings, attracting over 13,000 attendees annually and facilitating interactions among a wide range of experts from the cutting edge of the global materials community. MRS is also a recognized leader in education outreach and advocacy for scientific research.
For further information, go to: http://www.mrs.org.
About Cambridge Journals
Cambridge Journals publishes over 300 peer-reviewed academic journals across a wide spread of subject areas, in print and online. Many of these journals are the leading academic publications in their fields and together they form one of the most valuable and comprehensive bodies of research available today.
For further information, go to: journals.cambridge.org.
About Cambridge University Press
Cambridge University Press is the publishing business of the University of Cambridge. Dedicated to excellence, its purpose is to further the University's objective of advancing knowledge, education, learning, and research. Its extensive peer-reviewed publishing lists comprise 36,000 titles covering academic research, professional development, nearly 300 research journals, school-level education, English language teaching and bible publishing.
For further information, please go to: http://www.cambridge.org.