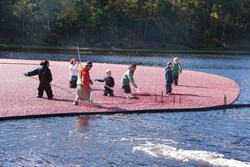 With a good crop on our hands, we're looking forward to a 'reason for every season' -- Scott J. Soares
Wareham, Massachusetts (PRWEB) September 13, 2013
Cranberries, North America's most historically significant native berry, are rapidly ripening and on the verge of harvest with a projected crop of over 8 million barrels, or over three quarters of a billion pounds.
Many cranberry growing states are popular autumn destination points for tourists who go to enjoy the fun activities and educational opportunities provided at cranberry harvest festivals. Still, others participate on farm tours to observe the harvest or even participate in the work.
"The cranberry harvest is an American fall ritual steeped in historical tradition," said Scott J. Soares, Executive Director, US Cranberries. "With a good crop on our hands, we're looking forward to expanding opportunities to introduce our healthy and versatile berry to every season of the year."
From September through October, there are cranberry festivals and farm tours in Oregon, Wisconsin, Massachusetts, New Jersey, and Washington. To find an event to suit your "taste", click here.
Cranberries are either wet or dry harvested. When the berries are wet harvested, the marshes or bogs in which they grow are flooded. Water reels, also sometimes referred to as "beaters," stir up the water to separate the berries from the vines after which the buoyant berries are corralled using wooden or plastic "booms."
Dry harvesting involves a specialized rake that carefully removes the berries off of the vines into crates or bags. These berries are most often used for the fresh fruit market. Fresh, frozen, dried, or as juice and sauce, cranberries are a versatile culinary favorite in a wide variety of dishes. A serving of fresh cranberries is a good source of vitamin C and fiber, provides antioxidant polyphenols, and contains only 1 mg of sodium. For recipe ideas, go to http://www.uscranberries.com.
However the harvest is accomplished, viewers are treated to one of the most unique of harvest experiences set among the brilliant backdrop of fall foliage, bright blue skies and millions of crimson gems that are destined to become any number of juice, baked, dried or fresh products that allow visitors to get a real "taste" of the US cranberry harvest.
In order of production volumes, cranberries are commercially grown in the states of Wisconsin, Massachusetts, New Jersey, Oregon and Washington. Although smaller production, cranberries are also grown in Connecticut, New York, Rhode Island, Minnesota, Maine and Michigan.
About US Cranberries - US Cranberry Marketing Committee (CMC):
The CMC was established as a Federal Marketing Order in 1962 to ensure a stable, orderly supply of good quality product. Authority for its actions are provided under Chapter IX, Title 7, Code of Federal Regulations, referred to as the Federal Cranberry Marketing Order, which is part of the Agricultural Marketing Agreement Act of 1937, as amended. This Act specifies cranberries as a commodity that may be covered, regulations that may be issued, guidelines for administering the programs, and privileges and limitations granted by Congress. For more information about the CMC, visit http://www.uscranberries.com. Follow at http://www.twitter.com/uscranberries and http://www.facebook/cranbecravers.