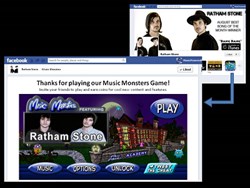 Huntsville, AL (PRWEB) September 13, 2013
Everyone knows that Facebook is the primary social network used by indie artists to promote their music. And everyone knows that Facebook is THE network for social gamers with over 250 million playing daily. Music Powered Games is working to bring these two Facebook communities together by making it possible for every indie artist to have their own social music game on their Facebook page.
Music Powered Games is bringing their Music Monsters lyric-rhythm game to Facebook to create the "Candy Crush" of new music discovery. A game that will:

Let fans "play" the artist's songs in the artist's game at the artist's Facebook page
Reward fans for inviting their friends to play and to Like the artist's page
Automatically promote the artist's music to friends of these gamers; and
Create a new game-based revenue stream for the artist
According to Bobby Wells, CEO of Music Powered Games, "Indie artists are combining their tremendous musical talent with powerful digital tools to produce awesome music. We're giving artists a new digital tool that leverages the viral discovery power of social games to produce equally awesome music marketing."
For release in November of this year, Music Powered Games is adapting the Music Monsters iOS game (now on the App Store http://bit.ly/PI1Y42) to play as a Facebook tab app that any artist can add to their Facebook page. Each artist's game will carry the artist's branding and will play one-minute clips of their songs on their page. The game include will 40 levels of social gameplay that encourage repeat plays of the songs. Similar to Candy Crush and other popular social games, Music Monsters will encourage gamers to invite their Friends to play and to share posts about game accomplishments and challenges. The result is a social music game that creates new social connections for indie artists.
To get fans involved now and to make it even more affordable for the artists, Music Powered Games is conducting a Kickstarter campaign at http://kck.st/14UafcO to let fans sponsor their favorite indie artist's game. The total cost to place the game on an artist's Facebook page is $100 per song. Artist's can sponsor themselves or encourage their fans can sponsor them with small donations.
Wells adds that, "Music Monsters will also create a new game-based revenue stream for artists. To progress through 40 levels, gamers will want to purchase game items such as new monsters with new powers and spells. We will pay artists a commission on these purchases made by their fans."
Press contact:
Bobby Wells
indies(at)musicpoweredgames(dot)com
Website: http://kck.st/14UafcO