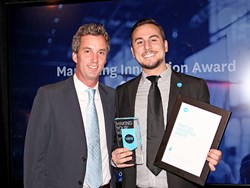 Xero is thrilled to give the 2013 Xero Partner Innovation Award to Advisor.
San Francisco, CA (PRWEB) September 12, 2013
The first annual Xerocon US welcomed more than 400 partners, accounting professionals and Xero enthusiasts to San Francisco last week. The event, which took place on September 4 & 5 at the Terra Gallery in SoMa, was hosted by Xero, developers of beautiful online accounting software. The conference focused on the valuable partnerships Xero has fostered with accounting firms, bookkeepers and add-on partners, while exploring the future of the accounting industry. Startup accounting firm Advisor has been a Silver Partner of Xero since January 2013.
The conference came to a close with the first annual Xerocon Gala Dinner & Award Ceremony on September 5. At this event, recognition was given in the following categories: Fastest Growing Partner, Emerging Add-on Partner, Xero MVP, Bookkeeping Partner of the Year, Add-on Partner of the Year, Accounting Partner of the Year and Marketing Innovation.
Advisor received the Marketing Innovation Award for the company's use of smart messaging to enhance the quality of client services, improve overall client performance and set the firm apart from competitors in the startup accounting space. Also highlighted were the company's iterative approach to developing collateral and branding, popular community events like the Advisor Ping-Pong tournament and open office hours for the residents of the Runway startup hub in the Twitter building. Ryan MacCarrigan, Advisor's Director of Marketing, accepted the award on the team's behalf.
Ian Vacin, Xero's VP of Marketing and Product, presided over the Ceremony. "Xero is thrilled to give the 2013 Xero Partner Innovation Award to Advisor," said Vacin. "Advisor has clearly demonstrated strong use of innovative marketing approaches to grow their brand via targeted marketing activities and by delivering a great end-to-end experience to their clients."
"Our team is honored to be recognized by Xero in the Marketing Innovation category," said MacCarrigan. "We value our partnership with Xero tremendously and are grateful they've remained so invested in our growth and success."
About the Award Selection Process:
The purpose of the Xerocon Gala Dinner & Award Ceremony is to recognize partners and add-ons in the Xero ecosystem that help drive positive change within the accounting and small business industries. The awards are determined through a two-step nomination and panel voting process, comprised of industry experts that work inside and outside of the Xero ecosystem. Votes are tallied offline and presented at the Xerocon Awards Gala each year.
About Xero:
Xero is beautiful, easy to use online accounting software for small businesses and their advisors. The company has over 200,000 paying customers in more than 100 countries around the world. Recently Xero garnered a five-star review for Software As Service from CPA Practice Advisor. Xero's U.S. team is based in San Francisco. See http://www.xero.com
About Advisor:
Advisor provides expert services in startup accounting, operations and advisory to early and growth stage startups who require a solid roadmap and strategy to scale their business. A team of experienced CPAs, CFOs, Project Managers, Strategy Advisors, and Startup Specialists manage all your needs in Accounting, Human Resources, Payroll, Taxes, Compliance, Advisory, Fundraising, Valuations, M&A, Audit Prep and more. See http://advsor.com