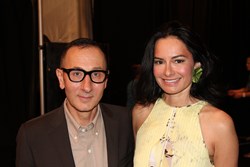 My husband is a plastic surgeon, and he makes a rehydration powder for his patients—I drink it all week.
New York, NY (PRWEB) September 13, 2013
With New York Fashion Week coming to a close, it's always nice to look back and reflect on the beauty, the styles, and the whirlwind of glamour that swept through New York City. With industry executives rushing to and from shows, presentations, and parties across the island, it is easy to miss a meal, lose out on sleep, and just run ragged. Vogue Magazine asked Dr. Lisa Airan what her secret was to staying happy and healthy during the madness of Fashion Week. She told Vogue, "My husband (Dr. Trevor Born) is a plastic surgeon, and he makes a rehydration powder for his patients—I drink it all week."
Dr. Airan has become a permanent fixture on the fashion circuit, attending shows in New York and Paris every year, and calling many of the designers personal friends. This year was no exception as Dr. Airan made appearances at Libertine, Rodarte, J. Mendel, and Marc Jacobs, along with numerous industry events. One notable difference this season however was the full scale launch of Dr. Airan's YouTube channel. Dr. Airan has taken her exclusive behind the curtain access into the glamorous world of fashion and is sharing it with all of her friends and fans. Everyone can visit her channel to enjoy a mixture of patient testimonials, fashion show footage, detailed dermatology procedures, and highlights of Dr. Airan's favorite fashions.
About Dr. Airan:
Dr. Lisa Airan is a board-certified, world-class cosmetic dermatologist practicing in Manhattan and beauty expert who offers a wide range of services to her much-valued patients.
A dermatologist whose Manhattan office specializes in aesthetic dermatology including BOTOX® Cosmetic and injectable fillers such as Restylane®, Radiesse® and JUVÉDERM®, Dr. Airan also performs laser hair removal in New York and uses lasers for scars, blood vessels, and reversal of sun damage. She performs Thermage® skin tightening, sclerotherapy, acne treatment, chemical peels, GentleWaves, general dermatology, and skin cancer surgery.
Her high profile clients include a who's who list from the fashion industry, entertainment industry, A-list celebrities and modeling world. Best known for her 5 points to good living, Dr. Airan advocates balance through a healthy diet, regular exercise, spirituality, stress reduction, and cosmetic dermatology.