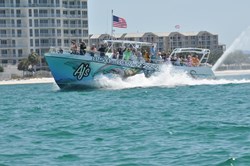 My family and I had a wonderful time! We saw quite a few dolphins and also hammerhead sharks.
Destin, FL (PRWEB) September 13, 2013
Families looking for an adventure on the water can now book dolphin cruises on TripShock.com for savings of up to 40%. The popular tours are a great way to experience Destin's rich maritime culture firsthand.
Dolphin Watch and Destin History Cruise: This two-hour tour cruises through the Gulf of Mexico, Destin Harbor, and Choctawhatchee Bay aboard a roomy vessel with glass bottom and top deck observation areas. A narrator points out historical highlights and marine wildlife.
"My family and I had a wonderful time! We saw quite a few dolphins and also hammerhead sharks. The crew was helpful and friendly. The kids loved the boat and feeding the seagulls at the beginning." –TripShock Traveler Review
The Thriller Dolphin Tour aboard AJ's SeaQuest: Guests will enjoy complimentary beverages and lots of walking room aboard the 53 foot SeaQuest. Families of all ages are welcome to participate in the 1.5-hour tour that seeks encounters with wild dolphins.
"The cruise with the dolphins was so great, and the guys were the ones that made the trip fun. I would recommend AJ's SeaQuest to anyone who would like to take a dolphin cruise." –TripShock Traveler Review
The Original Destin Pirate Cruise with Blackbeard: Kids and adults alike are encouraged to channel their inner Jack Sparrow on an Emerald Coast pirate adventure. Kids will receive pirate booty bags, and adults receive complimentary wine and beer, while Captain Blackbeard leads the way on the search for dolphins.
"The kids and I had a blast. The crew was great with the kids, the ship was very nice and it felt like a real sailing experience. The kids got to help out with the ship and truly enjoyed the experience." –TripShock Traveler Review
SeaQuest Snorkeling and Dolphin Adventure in Destin: During the first half of this three-hour tour, passengers will snorkel the warm emerald waters of Destin's East Pass. Then, travelers will enjoy a comfortable boat ride while on the lookout for dolphins in their natural habitat.
"My husband and I had an amazing time doing this. The crew was friendly, they played great music on the ride, and we saw plenty of dolphins. We absolutely plan on doing this again!" –TripShock Traveler Review
Visit http://www.TripShock.com for current dolphin cruise pricing and availability.