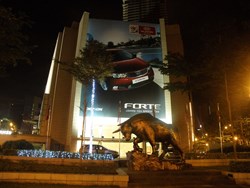 As Advertising.my has the expertise in digital marketing, current and new clients can now enjoy the power of this media in which a dedicated client-support portal will be specially designed and made available.
Kuala Lumpur, Petaling Jaya (PRWEB) September 13, 2013
Advertising.my recently announced its expansion plans that include the opening of more channels in advertising particularly in the OOH media for more exposure in the branding and marketing campaigns of its clients.
Advertising.my has been involved in above, below and through-the-line advertising services for more than a decade now and the new offerings will further strengthen the agency's reputation among its business partners and corporations around the country as the leader in advertising services.
Apart from marketing services, Advertising.my provides additional products and services that include manufacturing and distribution of LED-based lighting products. This technology is increasing in popularity particularly in the consumer electronics sector as well as in other segments. LED (Light-Emitting Diode) technology is widely used in most areas of lighting most notably in billboards. This technology is known for its benefits that include better cost savings, faster Return-on-Investments (ROI) and more efficient energy output which have driven business owners to change and enjoy these advantages.
Conventional billboard lighting is being replaced with LED as they allow the media owners to save more in the long-run. Apart from that, LED video boards are fast becoming the industry standard as they provide brighter and more consistent lighting as well as more energy efficient. As they are designed to last at least 8 times longer than conventional lighting modules, the advantages of this technology are quite evident to media owners who have to bear electricity bills for their billboards.
As part of the next expansion plan, Advertising.my will be launching new horizontal and vertical billboards in some of the major roads around the country, most evidently in the Klang Valley. These roads are selected based on the high traffic flow which will garner high impressions for the advertisers. In the Klang Valley, the roads are among the top main roads which are used by motorists and vehicle owners on a daily basis, commuting between work, home and other areas.
The main roads involved in the upcoming launch include Jalan Bukit Bintang and Jalan Sultan Ismail, two of the most popular shopping roads in the heart of Kuala Lumpur and Jalan Tun Razak, one of the longest access roads in the capital. Jalan Tun Razak and MRR2 are used by thousands of motorists each day where they commute between the east and western areas of Kuala Lumpur.
Meanwhile, Advertising.my will be launching billboards in Malaysia specifically in other major roads around Petaling Jaya as well while expressways like the LDP (Lebuhraya Damansara-Puchong), the KLIA Highway, the PLUS North-South Expressway will be involved together with some prime locations along Federal Highway, the most important highway for people in the Klang Valley.
Advertising.my will be adopting the use of LED lighting for the new billboards in Malaysia in which they will be extremely cost-effective. Consuming only 120W energy per spotlight, it will amount to very high savings for the advertiser. On top of that, all lighting equipment in the new billboards comes with 5-years warranty that will provide more peace of mind of using these media for advertising.
As part of this new launch promotion, Advertising.my is offering a series of value-added services for a limited time. Production cost for new clients will be waived which will in turn provide substantial savings. From there, clients can now stretch their advertising dollars further by implementing more frequencies or investing in other types of media in their integrated marketing campaigns.
As Advertising.my has the expertise in digital marketing, current and new clients can now enjoy the power of this media in which a dedicated client-support portal will be specially designed and made available.
Through this portal, current and new clients will now be able to view the full statistics for all the billboards in Malaysia. The data available through billboard.advertising.com.my includes the demographics of viewers in the specific area, the impressions that can be garnered, the effectiveness of a certain billboards and many more. Such data can then be used as part of the planning, strategizing and designing of any outdoor advertising in Malaysia where advertisers can now evaluate if a specific location is suitable for their campaign before making the decision.