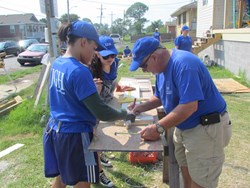 New Orleans, LA (PRWEB) September 17, 2013
New Orleans Area Habitat for Humanity (NOAHH) partnered with staff volunteers from East Jefferson General Hospital (EJGH) to help build a new home for the Perique Family in New Orleans East. More than 30 employees of EJGH were on hand to help build the home despite the late summer heat.
Jeremy and his fiancé, Ariel, are the parents of two young girls.
"I was endeared to the fact that I would be helping others reach their goal of homeownership, as I try to obtain mine," stated Jeremy. "This home will be a huge step, and a new beginning for my family, as I try to provide a better life for them. Thanks for giving me the opportunity to help others as I strive for a better life."
NOAHH was glad to join the volunteers from EJGH who are giving back to the community they serve.
"As a community hospital, part of East Jefferson's mission is to go beyond our walls to positively impact our community," stated Valerie L. Englade, Senior Vice President of Community Affairs, East Jefferson General Hospital. "Our team members look forward to these type of volunteer programs and are proud to partner with Habitat for Humanity because we are directly helping families in need. It fosters a wonderful community spirit and shows that great things happen when we come together for a common cause."
East Jefferson General Hospital
East Jefferson General Hospital opened in 1971 and is a publicly-owned, not-for-profit community hospital. This service district hospital, formed in 1965, receives no tax support from Jefferson Parish. The 420-bed hospital is served by over 650 physicians and over 3,000 team members. EJGH is nationally recognized for its clinical quality and is accredited by the Joint Commission on Accreditation of Healthcare Organizations, a credentialed member of the MD Anderson Cancer Network and Louisiana's first and only three-time Nurse Magnet hospital. For more information on East Jefferson General Hospital, visit online at http://www.ejgh.org.
New Orleans Area Habitat for Humanity
New Orleans Area Habitat for Humanity, an independent affiliate of Habitat for Humanity International, is a 501(c) 3 non-profit organization. NOAHH builds new houses in partnership with sponsors, volunteers, communities, and homeowner families to eliminate poverty housing in the New Orleans area while serving as a catalyst to make decent shelter a matter of conscience and action. Since its inception in 1983 NOAHH has built 500 new homes for low-income families in need of adequate shelter. NOAHH plans to continue to build homes in Orleans, Jefferson, St. Bernard, St. Charles and Plaquemines Parishes.