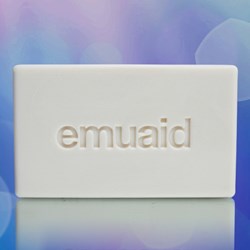 Currently, there is not a bar soap or liquid soap in the market that stands up against our Moisture Bar.
Pompano Beach, FL (PRWEB) September 16, 2013
New from EMUAID®, the maker of the industry-changing homeopathic First Aid Ointment, comes EMUAID® Therapeutic Moisture Bar. Cleansing is the most important part of skin care, and choosing the right soap is critical. Much more than a typical bar soap, this all natural, advanced formulation contains 5% Emu Oil along with Tea Tree Oil, Argan Oil, Macadamia Oil and Jojoba Oil. This face and body bar is triple milled in the 300 year old French tradition and packed with nature's most effective anti-bacterial, anti-fungal and anti-viral essential oils. Designed for people suffering with skin conditions such as dermatitis, eczema, psoriasis and rosacea, EMUAID®'s ultra-nourishing moisture bar thoroughly cleanses, gently exfoliates, combats pathogens, soothes itching, eliminates flaking and moisturizes fragile, damaged, dry skin. In addition, these hydrating, reparative oils have an anti-aging, anti-wrinkle effect on the skin.
A perfect complement to EMUAID® First Aid Ointment, EMUAID® Therapeutic Moisture Bar deeply cleanses and detoxifies the skin, delivers intense hydration and restores moisture, exfoliates to promote cellular turnover and stimulates natural skin regeneration. "Our customers expect high functioning, multi-tasking, one-of-a-kind products from us, so we developed a bar soap that delivers incredible therapeutic benefits along with anti-aging properties – all in a natural base with no synthetic detergents or chemicals," states EMUAID's Founder, Richard Nicolo, "currently, there is not a bar soap or liquid soap in the market that stands up against our Moisture Bar."
Designed for face and body, this all natural soap does not contain any parabens, phthalates, paraffin, gluten, propylene glycol, mineral oil, synthetic fragrance, PABA, synthetic color, DEA or sulfates.