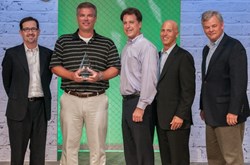 This achievement recognizes LiftOff's exemplary commitment to Microsoft and to its State & Local Government clients."

Vince Menzione, General Manager of Microsoft's Public Sector Partner program
Crofton, MD (PRWEB) September 16, 2013
LiftOff LLC, an information technology consulting firm, has won the 2013 U.S. State & Local Government "Rising Star" Partner of the Year Award from Microsoft.
The Award highlights and recognizes LiftOff's excellence and achievement in producing exceptional results for their State & Local Government customers, with a focus on delivering the benefits of Office 365 Cloud computing.
LiftOff has helped over 50 cities, counties and other municipalities in 30 States to Office 365 over the past four years. Following a transition to the cloud, LiftOff's client Summit County, Utah, is now enjoying benefits such as increased functionality, enhanced security, greater uptime and lower costs compared with their legacy email system. "When I considered the costs of hardware and software licenses, cooling and power, and training and administration, I found I was saving a ton of money," said Ron Boyer, Summit County's Director of IT. "We no longer need somebody on staff that's dedicated to administrating the email system. You take that role out of the IT office and put it on Microsoft."
"Our Office 365 partners work hand in hand with us to extend the missions of our public sector customers," said Vince Menzione, General Manager of Microsoft's Public Sector Partner program. "This achievement recognizes LiftOff's exemplary commitment to Microsoft and to its State & Local Government clients.
Earlier this year, LiftOff was named Microsoft's Office 365 East Region Cloud Partner of the Year for Small and Mid-Size Businesses, and in 2011 was recognized by Microsoft and the Wall Street Journal as a "Cloud Innovator".
"Our clients understand the advantages of Office 365 in terms of cost, scalability and security but they don't know how to get there", says LiftOff's President Ron Braatz. "LiftOff helps organizations understand the change management involved, and ensures they employ the correct migration strategies and cloud tools."
About LiftOff LLC
LiftOff LLC is a Microsoft partner that focuses completely on deploying Office 365. Staff have backgrounds in technology education, training, and client mentoring, and the firm's Guided Deployment Services for Office 365 allow it to work side-by-side with clients to coach them as they roll out cloud applications. For more information, visit http://www.liftoffonline.com/.