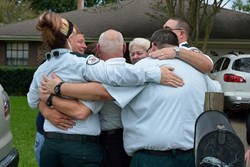 'Mr. Zeringue never gave up,' said Perret. 'We could see him fighting for his life and we were going to do everything in our power to save him.'
Lafayette, LA (PRWEB) September 12, 2013
Two weeks after suffering a heart attack at his home, Norman Zeringue wanted to reunite with members of the Acadian team who helped save his life.
On August 19, the newly-retired Zeringue began his day like any other. He cooked breakfast for his wife, Debbie, and then began to tackle his list of activities for the day. Halfway through his tasks, Zeringue took a turn for the worse and suddenly collapsed in his front yard.
Found by Vicky Fleming as she was driving to work, Zeringue was administered CPR by his next door neighbor Edmond Ganucheau before members of the Bayou Area team, Operations Supervisor Chad Duhe, EMT-P Debbie Perret, EMT-P Alisha Allbritton, and EMT-B Joseph Voiron, responded to the call.
"Mr. Zeringue never gave up," said Perret. "We could see him fighting for his life and we were going to do everything in our power to save him."
The entire Zeringue family including Norman's siblings, children, and grandchildren, reunited with the medics at their family home in LaPlace, La. A Cajun meal was prepared to thank all involved.
"They went the extra mile for me and I cannot express my appreciation enough," said Zeringue. "We all fought together."
Operations Supervisor Chad Duhe spoke of the impact of medics getting to see their patients again, and said, "This is special for all of us," said Duhe. "There are many times we transfer cardiac patients and never hear back on their progress, I am very proud of our team."
Since 1971, Acadian has provided the highest level of emergency medical care and transportation possible. In the past decade, the company has expanded to include a diverse suite of services in health, safety, and transportation. Acadian's six divisions are Acadian Ambulance Service, Acadian Monitoring Services, Air Med, Executive Aircraft Charter Service, National EMS Academy and Safety Management Systems.
###