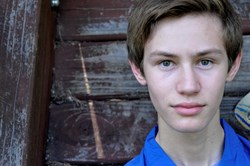 Not your typical teen pop artist, Kory Shore is a true singer-songwriter who brings unusual depth and emotion to his music.
Philadelphia, PA (PRWEB) September 14, 2013
Kory Shore, who received national attention for his "Crying for America" music video in 2011, has won Constituting America. "We the People 9/17" national contest for best high school song. He will be performing live at the National Constitution Center Kirby Auditorium on Monday, September 16, 2013 at 12:30 PM along with other award winning and talented young people in celebration of Constitution Day.
Kory wrote "Crying for America" out of concern for the future of his generation and the future of our country. The song is a plea for our current leaders to display the same strength and leadership our founding fathers provided. Although the song and video was perceived by some to be political, it was written out of patriotism and love for America— not politically motivated whatsoever. Indeed, the song is a 'cry' for America to become a great country again.
Kory is being produced by his father and Top 10 producer, Kurt Shore, ("Catch Me, I'm Falling"). The fully produced arrangement supplants famous quotes from the Founders in the 'solo' section rather than a musical solo.
"Kory's had music in his DNA since birth." He's so multi-talented, it's a real treat both personally and professionally to be working with him at this early stage in his career," said Kurt Shore.
The song and video was recorded at D4 Creative, a top Philadelphia ad agency owned by both Suzanne Hatfield, (Kory's mom) and Kurt.
Kory has also just released his next music video, "Don't be Afraid (to Cry)".
It was written and recorded over one weekend in memory of one of Kory's Episcopal Academy schoolmates, Paul Pratt, who tragically died in a car accident a week before summer break. Kory delivers an emotional vocal performance supported simply by piano, and background vocals. The lyric is both solemn and hopeful.
Primary Credits for both songs
Lead vocal, piano, background vocals- Kory Shore
Produced and background vocals by Kurt Shore
Arranged by Kurt Shore and Ralph Deal
Guitars by Steve McNight
Bass by Ralph Deal
Engineered by Kurt Shore
Mastered by Chris Zurzolo
Recorded at D4 Creative
Video Effects and Editing: Kory Shore
"Don't Be Afraid" video cinematographer- J. Paul Simeone
About Constituting America
Founded by Janine Turner, Constituting America's mission is to utilize the culture and multi-media outreach such as music, film, internet, and social media to reach, educate and inform America's adults and students about the importance of the U.S. Constitution and the foundation it sets forth regarding our freedoms and rights. Our multi-tiered approach features a contest for kids, academic forums with Constitutional Scholars, Patriot Clubs, and National Youth Director Juliette Turner's Youth Blog & Constitutional Fun Fact Essays for Kids.
About Kory Shore
Kory Shore is a singer, songwriter and gifted musician with talent and charisma. Kory began playing drums at 3. (See the video.) Break dancing at 4. Piano at 6. Singing at 8. And started writing music at 12. He's now 16 and ready for the world to hear his uniquely mature point of view as expressed through his music. He's currently being produced by Top 10 Producer, Kurt Shore. Kory also edits his own videos. Hailing from Phoenixville, PA, Kory is a serious wrestler, runner and snowboarder. Hobbies include airsoft, photography, and course, video games. His website is: http://www.koryshore.com/