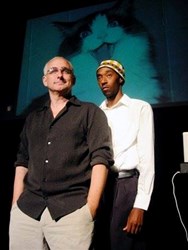 Dean Cameron's Nigerian Spam Scam Scam is all the more amazing because it's true! A terrific show! - John Landis
Hollywood, CA (PRWEB) September 13, 2013
Tickets for Dean Cameron's "Nigerian Spam Scam Scam" are available for only three more shows in this limited run, in anticipation of a soon-to-be-announced national tour. Available show dates are Sunday 9/15, 9/22, and 9/29.
The Story:
Upon receiving an email promising millions in return for $2,000, Cameron replied to a Nigerian SPAM scammer, posing as an aloof, eccentric millionaire with several cats and a "houseboy." Over the course of the eleven-month correspondence, he masterfully turned the scammer into the scammed. The resulting characters in this comedy stage production are vividly brought to life by Cameron and costar, Victor Isaac.
Actual email correspondence is available on the official website.
Reviews, Quotes, and Commentary:
"Dean Cameron's Nigerian Spam Scam Scam is all the more amazing because it's true! A terrific show!" - John Landis
"The Nigerian Spam Scam Scam is the funniest show I've ever seen." - Johnny Thompson aka The Great Tomsoni
"Dean Cameron's Nigerian Spam Scam is an absurdist masterpiece about the natural human capacity for gullibility. He turns predator into prey with intelligence, hilarity and wit, but surprisingly, never with contempt." - Adam Savage - Mythbusters
Penn Jillette Waxes Poetic about Nigerian Spam Scam Scam:
"The show is wonderful. I've always loved whimsy in the real world. When I was just out of high school, I was obsessed with the Marx Brothers happening in the real world. Flash Mobs jack into that for me and this is the best version. It's really a bad scam with evil people, and they're up against a nut artist. It's a very complicated show, in that you watch Dino as the puppet master controlling this thing, and then you watch Dino as the actor playing this Dean Cameron role that's so insane. It being his real name and the audience knowing that, makes the intensity of the character so much more interesting. We know the Nigerian is using all false names and false personalities, but Dino is using his real name and a totally false personality. It's playful in the face of evil. It's a Marx Brothers skit being done in the real world during a 7-11 robbery."
"Nigerian Spam Scam Scam" opened Sunday, September 8th at the Stephanie Feury Theater Studio in Hollywood, to a full house.
TICKETING INFORMATION:
The Nigerian Spam Scam Scam
7pm
Sundays September 15th, 22nd & 29th
The Stephanie Feury Studio Theater
5636 Melrose
Los Angeles, CA 90036
(between Gower & Larchmont)
Reservations (recommended):
(323) 248-7210
Tickets $15 at the Door
About Dean Cameron:
Dean Cameron is best known as "Chainsaw" in Carl Reiner's 1987 "Summer School." Since then, as well as working as a writer and director, he has appeared in over 30 feature films and television shows. Recently, Dean worked as an actor on the penultimate episode of USA Network's "PSYCH" as well as roles on "Glee," "The Mentalist," "American Horror Story," "Instant Mom," and "The Neighbors." He has toured the world with his two-person show "The Nigerian Spam Scam Scam," an account of his eleven-month correspondence with a Nigerian con artist.
Media Contact:
Eufemia K. Scarfone
Kinetic Sky
424.272.1736