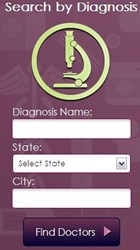 Our 2,500 diagnoses and 1,500-plus treatments let patients find any doctor.
Gulfport, Mississippi (PRWEB) September 26, 2013
DoctorsElite, a free and secure online service that helps patients, doctors, and ancillary medical services find doctors by diagnoses and treatments, has crossed over 2,500 diagnoses. Users can search through any US-based doctors who specialize in conditions ranging from the common, like hypertension, to the very rare, such as arthrogryposis multiplex congenita.
Second Opinions for Any Condition or Procedure
Every patient is entitled to a second opinion, especially when their original diagnosis is serious or calls for severe treatments, as is frequently the case with cancer. DoctorsElite helps patients take the initiative and sidestep the discomfort of asking their original doctor to refer them to another. This is useful for any patient who worries that they may have possibly been misdiagnosed, and DoctorsElite's deep pool of specialists means that no patient will lack for options.
Network with Specialists by Diagnosis or Treatment
Doctors can also use DoctorsElite to find colleagues and refer their patients to specialists who have different expertise. This is most beneficial to primary care doctors, who make the most referrals of any type of doctor. Physician users can search for other doctors not only by diagnosis, treatment, and location, but also by the specialties and subspecialties they most frequently refer to. Optometrists can build a referral pool of Ophthalmologists and their subspecialties, Dentists can network with Oral Surgeons, Oncologists can refer to Surgeons and Radiation Oncologists, etc.
No other site has the combination of searchability and original research that makes up DoctorsElite. Searching is made easy by the use of keywords, letting users find doctors whether or not they have knowledge of sometimes-confusing medical terminology.
For New Beginnings
Relocation can be difficult for anyone. Patients moving to new towns can be in the toughest position for finding a new doctor, especially when they suffer from a chronic condition. DoctorsElite gives these patients a wide range of options when looking for their new physician. Doctors moving their practice to a new location can also feel lost. Patient users can also securely record their entire family's medical information on the site, ensuring that their vital information follows them everywhere. DoctorsElite networking tools help them find and connect with the relevant physicians in their new location.
Users of the site have free access to a set of intuitive search tools to find doctors and specialists across the United States based on diagnoses and treatments. "We're excited about crossing this significant diagnosis mark because of what it means for patients: the empowerment to reach out and take control of their own fight for better care. Patients can also find a significant number of rare diagnoses and the doctors who treat them. Our 2,500 diagnoses and 1,500-plus treatments let patients find doctors in any specialty or even subspecialty according to their needs," says Cyril Bethala, MD, CEO of DoctorsElite.
About DoctorsElite
Founded by Cyril Bethala, MD, DoctorsElite is a free, secure online service that helps patients find doctors, doctors network with one another, and healthcare facilities promote themselves. With the overarching goal of helping patients take their care into their own hands, DoctorsElite strives to make their tools as comprehensive and easy to use as possible.