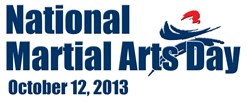 This is a celebration of martial arts students and fans. If you like martial arts, this is your day.
Arlington, TX (PRWEB) September 16, 2013
AT&T Stadium, Home of the Dallas Cowboys has seen its share of wild kicks but nothing like the jump, spin, and flying kicks at the Worlds' Largest Martial Arts Class on October 12, 2013 as part of National Martial Arts Day (NMAD).
"Celebrating the Student" is the theme of the event which is hosted by the Martial Arts Teachers' Association (MATA). MATA Executive Director, John Graden says, "This is a day when we put the spotlight on the enjoyment of the students, their family and friends. They get great seminars and demos and then have pretty much full run of the field. It's a great family fun day."
According to Graden, many schools are shutting down for the day and encouraging their students, families and friends to attend the event in school shirts to show support and pose for on-field school photos.
Martial artists, friends, family, and fans can see martial arts and self-defense demonstrations, learn from master instructors in seminars and then explore AT&T Stadium. They can bring a football to toss around and kick field goals. The Dallas Cowboy Cheerleaders and mascot will be on hand for photos. Attendees can also see the player and cheerleaders' locker rooms, the state of the art after game interview room, along with the five Dallas Cowboys Super Bowl trophies.
The only fee is the $35 National Martial Arts entry ticket. Parking is free and all activities are free as well. Concessions and pro-shop purchases are optional expenses.
To purchase tickets and get more information, visit National Martial Arts.
For High Rez Images, Latest News, Video Trailer, and Media Releases Visit Our Media Page: http://nationalmartialartsday.com/media/.