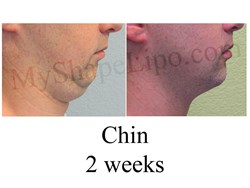 Increased confidence is very common when you address an issue that has caused anxiety for decades.
Las Vegas, NV (PRWEB) September 16, 2013
Can chin liposuction really help to earn more money? Brian Hagen a used car salesmen from Salt Lake City, UT believes that the chin liposuction he received at MyShape Lipo has helped him to close more sales and make him more money.
"It's incredible, I feel great and can't stop smiling," says Hagen. "I think the increased confidence that I'm experiencing transcends to the customer and makes them more confident in my product. I never would have guessed chin liposuction could do so much for my confidence, but here I am," says Brian with a big smile.
Trevor Schmidt PA-C, the liposuction specialist at MyShape Lipo says these type of results are fairly common. "Increased confidence is very common when we address a problem that has caused anxiety for decades," says Schmidt. "Absolutely, I think a sales person who looks and feels better about themselves will close more deals and make more money."
Brian flew to Las Vegas for his chin liposuction procedure 3 months ago at the time of this article. He took 1 week off of work to allow for healing of the chin, but says that he could have gone back sooner. He says that he saw a difference immediately after the procedure, but had some minor swelling for about 3 weeks following the procedure.
After about a month, he says his increased confidence was blatantly obvious by friends and co-workers. "Now my co-workers call me Mr. Profile, joking about my awesome results," says Brian.
"My last 2 months of sales have been record months for me and I attribute it 100% to the confidence I have from my chin liposuction," claims Hagen. "I can't explain how amazing it feels to not be self conscious of my double chin. I wish I would have done this a long time ago."
While this may be an isolated case of an individual gaining financial success after liposuction, gaining confidence after this procedure is quite common. Liposuction can give people back control of their own body. As we age it feels like some things are out of our control and no matter how hard we diet or exercise, some problems never change.
Double chins are all too common in our society and those that are unfortunate enough to be affected by this condition, typically lack confidence and shy away from photos. Chin liposuction can permanently remove this issue in less than an hour. The recovery is quite easy with minimal discomfort. A compression garment should be worn for 1 week, then at night for another week.
About MyShape Lipo
MyShape Lipo is a specialty liposuction clinic located in Las Vegas. Trevor Schmidt PA-C, the liposuction specialist has the experience of over 15,000 liposuction procedures. Patients fly in from around the world for their affordable prices, world class customer service and extensive experience in liposuction. For a complimentary consultation via phone or in person, call today, 702-818-5476 or visit them online at http://www.MyShapeLipo.com.