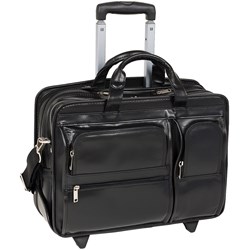 These briefcases are smart and durable but also easy on the back.
Los Angeles, CA (PRWEB) September 17, 2013
For business persons on today's crowded commuter flights and those salesmen that simply have to shuttle between offices on a regular basis, Gotbriefcases.com is promoting a new solution. Having the right equipment such as rolling briefcases for men is a must. Many of today's busy businessmen develop physical problems such as back aches and fatigue due in no small part from having to haul heavy cases or uncomfortable travel bags.
This is where Gotbriefcases.com comes in. Gotbriefcases.com has now created an entire webpage that focuses solely on wheeled or rolling briefcases for men. These briefcases help take the strain off the arms and shoulders of their owners thus reducing the amount of stress that gets distributed to the upper body. For those who are already prone to tiredness or have recurring back problems, these bags offer a balm to the pains of travel.
In fact, a carrier like the McKlein USA Clinton P Series 17" Leather Rolling Briefcase is perfect for the busy professional who prefers to wheel through crowded airports and negotiate busy sidewalks. Like its non-wheeled leather relatives, this wheeled version of this top quality briefcase includes all the upscale and style features you would expect from this popular business case designer.
Why the focus on men?
The reasons come from the top of Gotbriefcases.com. The owner and CEO of Gotbriefcases.com, Vahram Tovmasyan, decided to create this section of the site when a friend complained of being excessively tired after returning from business trips. "Picking him up one day," Tovmasyan says, "I noticed that he was carrying a heavy garment bag along with his briefcase and laptop case. It was no wonder he had trouble with his back after his trips."
In fact, it is common knowledge that many men still avoid wheeled briefcases because of a mistaken belief these are somehow not fully masculine. One look, however, at the page that Tovmasyan has created on Gotbriefcases.com refutes this myth: the cases are exquisite leather carriers that are both practical and stylish, often in a roughhewn manner even John Wayne would admire.
"These briefcases are smart and durable but also easy on the back," Tovmasyan points out. With their ergonomic telescopic grip and highly maneuverable wheels, these rolling briefcases for men really help take the pressure off the back—an especially useful feature when work turns up the pressure.
GotBriefcases.com is an up and coming online provider of fine luggage and work cases. Geared to the tastes and needs of the 21st Century traveler and business person, GotBriefcases.com's wide array of briefcases, laptop bags, travel cases, and messenger bags are perfect for the modern consumer regardless of price point or stylistic needs. At GotBriefcases.com costumers find the best briefcase designers and the highest quality bags. Put simply, GotBriefcases.com is the destination for briefcase or carry-ons. When it comes to finding the right case, GotBriefcases.com has it in the bag.
Those who would like to find out more about these amazing briefcases may visit the GotBriefcases website here: http://www.gotbriefcases.com.