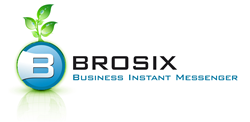 The number of people using an iPad and/or iPhone to communicate via our platform has increased greatly in 2013.
(PRWEB) September 17, 2013
In today's day and age, there is nothing more important for business professionals than staying connected. Brosix has taken note of this growing trend, providing users of its service with the ability to communicate on a variety of mobile devices ranging from smartphones to tablets.
With the number of business people relying on smartphones and tablets on the rise, it is more important than ever for instant messaging applications to accompany these devices.
Brosix CEO Stefan Chekanov strongly believes that this trend will continue to grow:
"Over the past few years, a growing number of our users have begun to rely heavily on Brosix for Android and Apple devices. For example, the number of people using an iPad and/or iPhone to communicate via our platform has increased greatly in 2013, with this trend looking to continue well into 2014."
Brosix for mobile devices allows users to communicate with coworkers and clients via a secure instant messenger, without having to be in the office. Some of the primary features include:

Availability on Android and iOS operating system
The same great Brosix security, ensuring that all messages are encrypted, private and secure
The ability to send pictures
The company has had so much success in the mobile space that Samsung recently reached out to invite Brosix to participate with the Samsung KNOX platform. With KNOX, Samsung plans on addressing the mobile security requirements of enterprise IT.
"Samsung has taken notice of what we are doing at Brosix in terms of mobile security," added Chekanov. "Although every aspect of our business is extremely important, we take great pride in providing users with the best security that the industry has to offer."
To learn more about Brosix for mobile devices, please visit http://www.brosix.com.
About Brosix
Brosix offers all-in-one instant messaging incorporating audio and video calls, sending screenshots, co-browsing, whiteboard and desktop sharing technology to provide an easy-to-use online meeting solution for high-quality online business collaboration. Used by more than 100,000 registered users, Brosix customers consist primarily of small- to medium-sized businesses. At present, more than 10,000 corporate customers in over 70 countries worldwide are using the Brosix private instant messaging networks and benefiting from significantly reduced travel time and travel expenses. Launched in 2006, Brosix is continuing to provide great enterprise instant messaging software to thousands of users around the world.