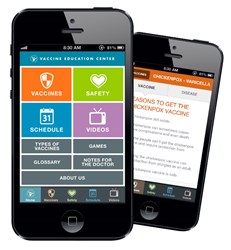 Philadelphia, PA (PRWEB) September 13, 2013
The Vaccine Education Center at The Children's Hospital of Philadelphia's (VEC) mobile app, Vaccines on the Go: What You Should Know, is now available for Android in addition to Apple platforms. Vaccines on the Go: What You Should Know is a unique mobile app that allows busy parents to access up-to-date, reliable information about the science and safety of vaccines -- wherever and whenever they need it.
Vaccines on the Go: What You Should Know includes comprehensive information about:

Vaccines and the diseases they prevent
Vaccine safety topics, including autism, thimerosal, vaccine schedules, and too many vaccines
Recommended immunization schedules for children, teens and adults
Types of vaccines and how they're made
Additional features include:

Graphics depicting disease characteristics, such as levels of contagiousness and typical disease timelines
Links to videos about vaccines
Vaccine-related games, like hangman and matching
A place to save questions for the next doctor's visit
The opportunity to easily email the VEC for answers to vaccine-related questions
Links to other VEC resources, like booklets and Q&A sheets
The new app places the extensive resources from the VEC web site at parents' fingertips in an easy-to-navigate mobile platform that parents can access at the doctor's office, grocery store, or pharmacy, allowing parents to find immediate answers to questions wherever they arise and to help them make informed decisions regarding their child's immunizations.
Parents can download the free app from the iPhone or Android stores or can learn more or easily locate the links to the app in app stores by visiting the VEC's mobile app web page http://vaccine.chop.edu/mobileapp.
About the Vaccine Education Center
The Vaccine Education Center at The Children's Hospital of Philadelphia (VEC) was established in October 2000 with the goal of providing scientifically accurate and up-to-date information about vaccines and the diseases they prevent to both parents and health professionals. The Center offers numerous resources, including websites, videos, e-newsletters, informational tear sheets, webinars and speakers programs, all of which provide information that dispels common misconceptions and misinformation about vaccines. Information commonly found on VEC resources include how vaccines are made, how and why they work, who recommends them, whether they're safe, whether they're necessary and when they should be given. The Vaccine Education Center is funded by The Children's Hospital of Philadelphia and does not receive support from vaccine manufacturers.
About The Children's Hospital of Philadelphia
The Children's Hospital of Philadelphia was founded in 1855 as the nation's first pediatric hospital. Through its long-standing commitment to providing exceptional patient care, training new generations of pediatric healthcare professionals and pioneering major research initiatives, Children's Hospital has fostered many discoveries that have benefited children worldwide. Its pediatric research program receives the highest amount of National Institutes of Health funding among all U.S. children's hospitals. In addition, its unique family-centered care and public service programs have brought the 516-bed hospital recognition as a leading advocate for children and adolescents. For more information, visit http://www.chop.edu.