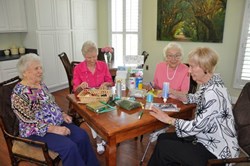 We wanted our money to go to battered women, this state is one of the worst.
Pawleys Island, S.C. (PRWEB) September 13, 2013
Old Greeting Cards Find New Charitable Purpose
Local women donate refurbished greeting card proceeds to stop domestic violence.
Domestic violence is a continually growing problem in the United States and in South Carolina, specifically.
In Violence Policy Center's annual report "Why Men Murder Women," South Carolina ranked only behind Nevada as the worst state for men murdering women. In every single case, the woman knew her attacker.
A group of women at The Lakes at Litchfield retirement community led by Greta Ferri have joined together to stop domestic violence by refurbishing greeting cards.
Ferri has been redecorating cards for over a decade. She cuts off the written on portions of used cards and fashions new cards with added details such as jewels, feathers, or lace to make the cards one of a kind.
When Ferri moved to The Lakes at Litchfield nine years ago, she showed her skill set off in the community craft class. Pauline Ward, Dean Parker, Carol Mather, and Ellen Green immediately embraced the unique concept. "They have been crafting greeting cards together for eight years," says director of member services Molly Ford.
Each lady has created her trademark style of decorations. Member Ellen Green likes to add quilling to cards, which is using small strips of paper and rolling them into different shapes. Even Pauline Ward, a member who is 101-years old, gets in on the action by adding feathers and googly eyes.
The women sell the cards at the community for $2, with the cards with lace or quilling costing more. "Everything is on the honor system," notes Ferri. The Lakes at Litchfield members put the money in a box next to the card racks. All of the proceeds go to the Family Justice Center of Georgetown County.
"We wanted our money to go to battered women, this state is one of the worst," notes Ferri. The women used to donate to Center Against Spousal Abuse (CASA). However, that organization closed which left a huge void.
Ferri sadly remembers, "For a while there was no shelter in Georgetown or Myrtle Beach." The women continued to make the cards and sell them. When Family Justice Center of Georgetown County opened their doors in 2007, the women were ready to donate.
Just recently, the women donated another $1,000. This makes $15,000 to date. The donations go to the Family Justice Center of Georgetown's Safehouse.
Through the continual donations, The Lakes at Litchfield women hope to see South Carolina become a better place to live with fewer cases of domestic violence.
About The Lakes at Litchfield
The Lakes at Litchfield is an all-inclusive, continuing care retirement community (CCRC) on Pawleys Island, S.C. The community's care-free lifestyle helps members live longer, healthier and happier lives by offering an array of amenities including maintenance-free living, daily fine dining, weekly housekeeping, a nationally recognized wellness program and continuing-care health services. Members can choose from a variety of floor plans including single-family cottage homes and condominium-style villas. Assisted-living, memory-care and skilled-nursing rooms are also available for those who need to make a transition from independent living. More information about The Lakes at Litchfield is located at http://www.Lakes-Litchfield.com.