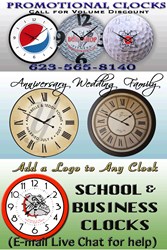 These clocks are the perfect house warming gifts for my clients.
Phoenix, AZ (PRWEB) September 17, 2013
Thebigclockstore.com, the largest personalized clock company in the world, has developed a line of clocks especially for real estate closing gifts. Real estate agents from around the world have been using personalized clocks as closing gifts for their customers. Far better than Cutco knives, dead bolts, or pictures, realtors have found that the personalized clocks from thebigclockstore.com are loved by their clients, but also are perfect for long term marketing. This new line of clocks from thebigclockstore.com adds a special feature; the agent's name and contact information on the back of the clock as marketing for as long as the clock is on the wall. The extraordinary beauty of these clocks are always a conversation piece, which additionally adds to the agents' marketing.
Thebigclockstore.com, founded in 2004, specializes in one of a kind wall clocks. It is arguably the largest "personalized" clock manufacturing company in the world. They can make a single 12 inch clock celebrating an anniversary or hundreds with a unique logo for a large organization. They can match a bed spread pattern for baby's rooms, or print your "classic car" on the face. Their large, 5 foot clocks are an unbelievable addition to a large wall in a business or home. They are the largest indoor clocks you can buy anywhere in the world. From kids clocks to sports clocks, apple clock, rooster clocks, vintage, logo, wedding, or contemporary, if they do not already have it, more likely than not, they can make it. Today, their clocks will be seen all around the world in schools, restaurants, hotels, businesses, as well as in thousands and thousands of individual homes.
With this new line of Realtor Clocks, agents are making their hard earned dollar count. They showing their appreciation through gift that will be a keepsake for many generations as well as providing long-term marketing for themselves.