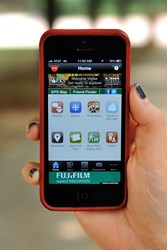 Westchester County, NY (PRWEB) September 13, 2013
A walk in the park just got a little easier thanks to the first mobile app of its kind for a county park west of the Mississippi. Outdoor enthusiasts can now leave their cumbersome maps in the car and explore the County's 50 parks and 1,800 acres of open space. Friends of Westchester County Parks announced the launch of the Westchester County Parks Pocket Ranger® app, a free on-the-go interactive guide for park goers, nature lovers and outdoor enthusiasts.
The new app will expand the use of technology to provide information to visitors of the Westchester County, N.Y. parks system. Introducing useful technology has been an ongoing initiative of the Friends of Westchester County Parks for improving the parks experience for tourists and residents alike. Now visitors can use the mobile app for a myriad of parks experiences such as hiking, biking, camping, boating, golfing, swimming and more. "To access the free download, a user must search for Westchester Pocket Ranger on their iPhone or Android," said Elizabeth Bracken-Thompson, chairperson of Friends of Westchester County Parks.
The new app was made possible by a grant of $25,000 from Friends of Westchester County Parks, a not-for-profit group dedicated solely to promoting and supporting the award-winning Westchester County Parks System, and a partnering grant from Fujifilm whose USA Corporation headquarters are located in Westchester. "Our organization was proud to make this free mobile app available to help outdoor enthusiasts enjoy the beauty of our 1,800 acres of parkland. It speaks to a whole new generation of recreational enthusiasts who are used to turning to their mobile devices," she continued.
Commenting on Fujifilm's gift, President of Fujifilm Holdings America Corporation Shig Sano said, "Fujifilm has long been a supporter of Westchester County Parks as part of our global commitment to sustainability, and we are constantly seeking ways to be more innovative in our business." He continued, "This mobile application project is the perfect blend of innovation and environmental awareness that helps improve the surrounding community in which we work and live."
"I thank Friends of Westchester County Parks and Fujifilm for bringing this extremely helpful new technological tool to our park visitors and also to people from outside the region who would like to explore our award-winning park system," Westchester County Executive Robert P. Astorino said. "And, thanks to the support of these two sponsoring partners, the app is free to users and there is no cost to county taxpayers."
In addition to state-of-the-art GPS technology, the Pocket Ranger provides numerous other tools to make exploring Westchester's beautiful parks a breeze. Visitors can decide which park to visit using the 3-in-1 Explore search feature, allowing users to search all parks or narrow it down by activity or destination type. The Calendar of Events is updated in real time and informs app users of all the upcoming events for each park. Park rules and regulations are a click away, an especially helpful feature to anglers and sportsmen. Planning an extended visit is easy with a few quick clicks to secure overnight reservations.
From the home page users can:
1. Choose by park name or location/town/ city/village
2. Choose by activity or interest (kayaking, archery, hiking, biking)
3. The Nearest Me icon offers immediate access to the nearest park
4. GPS Mapping function helps users locate the park
5. GIS function will keep your trail route live while you walk it to prevent getting lost and measure distance
6. Friend Finder can connect you to a friend by distance and location
7. Alert feature sends the longitude and latitude of where you are for immediate assistance
8. Weather alert will be disseminated to users as pop-up alert
Friends of Westchester County Parks is collaborating with ParksByNature Network™ to provide this free service to the public. To download the app, visit iTunes or Android Market. There were no costs to the county agency or the taxpayer.
"The Friends of Westchester County Parks showed great vision by taking this rewarding leap into mobile," said Gregory Black, President ParksByNature Network. "There's no other mobile platform that includes advanced GPS mapping technology, a Friend Finder, Calendar of Events, park maps and photos, social network sharing, and more with just the touch of a button."
For more information or to make a donation please visit friendsofwestchesterparks.com.
Friends of Westchester County Parks is the only organization dedicated exclusively to promoting and supporting Westchester County parks. Friends of Westchester County Parks, which is governed by a Board of Trustees, secures and administers private funds that support the mission of the Westchester County Department of Parks, Recreation and Conservation. Funds raised through membership fees and donations are used for the sole benefit of Westchester's parks. All donations are tax deductible.