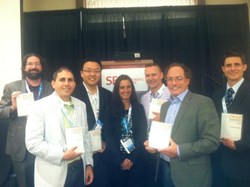 Digital marketing and Local Search isn't just my work, it's my passion.
San Francisco, CA (PRWEB) September 12, 2013
The prestigious ClickZ Awards, typically reserved for brands and agencies that embrace creativity and drive stellar results, were announced at Search Engine Strategies San Francisco to a packed audience. The 2013 awards, however, differed from past awards in that they were dedicated to recognizing the contributions of individuals to the Digital Marketing industry, rather than the work of brands or agencies.
Known as the Digital Marketing Hall of Fame Awards, the distinguished honor was placed on ten visionaries and thought leaders across digital advertising, whose contributions, ingenuity and commitment pushed digital marketing to new levels of excellence. Among the honorees was Geary LSF North American President, Gregg Stewart.
"I am absolutely honored to receive the ClickZ Digital Marketing Hall of Fame Award," said Mr. Stewart. "Digital marketing and Local Search isn't just my work, it's my passion. The digital landscape is constantly evolving and growing making what I do all the more exciting. But what I find the most joy in is sharing what I've learned with the community. Being recognized for those contributions is truly humbling."
Specifically, Mr. Stewart was recognized for his continuous involvement in the Local Search community. For six years and counting, he has championed the publishing, production and marketing of the renowned Local Search Usage Study, providing valuable insights into the ever-evolving landscape of Local Advertising. The most recent study can be found at http://www.localsearchstudy.com. To read more about the ClickZ Digital Marketing Hall of Fame Awards and see the complete list of award winner, visit ClickZ here.
About Geary LSF Group
Geary LSF is an integrated full-service online marketing group that delivers more results per campaign by uniquely optimizing the digital customer engagement path. It provides advertisers with comprehensive services all under one roof: from Strategy to Development, Media Planning to Placement, SEO, SEM, Analytics, Social, Local and Mobile media services. Headquartered in San Francisco, California, the 240-people strong Geary LSF Group has offices on two continents and manages campaigns for more than 450 brands worldwide including WD-40, Bumble Bee Foods, MegaPath, Aramark, Ashley Furniture, Target, Club Med and several others. For more information, please visit http://www.gearylsf.com. For New Business Inquiries: sales(at)gearylsf(dot)com.