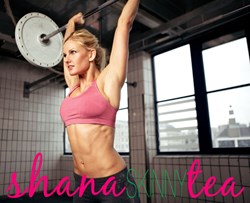 Shana Skinny Tea's are a combination of tea leaves, berries and roots that have super powers which can get you Skinny, Healthy and Strong with 2 cups of tea per day.
Denver, CO (PRWEB) September 17, 2013
"The combination of tea leaves, berries and roots have a superpower which can bring you awesome results", says Founder and CEO Shana Kurz. As a Certified Health Coach, Shana is very familiar with helping clients alleviate the combined struggles of weight loss and nutrition. While focusing on the natural medicinal qualities of tea and their detoxing properties, Shana joined with top tea experts to create her 14- and 28-day tea plans.
After graduating from Boston College in 2003, Shana was selected for GE's infamous Marketing Leadership Program and quickly climbed the corporate ladder before leaving the workforce to raise her 4 young boys and embrace all the loving challenges of motherhood. During this time at home, Shana was eager to help her peers, so in 2012 Shana sought a higher education and became a Certified Health Coach.
What sets Shana Skinny Tea apart from its various competitors is Shana's meticulous focus on quality and results, along with proprietary tea blends created specifically for women who are looking for results from a natural product. Gone are the days of expensive and time-consuming juicing, chemical laden shakes and unhealthy starve yourself detoxes. Shana Skinny Tea can deliver the same exceptional results but with an easy-to-use, great tasting, affordable and all-natural product. Shana Skinny Tea comes in 3 unique variations of loose-leaf tea blends, Skinny (Detox), Healthy and Strong.
The Shana Skinny Tea Detox plan helps suppress your appetite and reduce cravings while shelling out enough energy to keep you going and energized all day while avoiding the 3:00 pm crash. This plan also includes a bonus colon cleanse blend to sooth and heal your tummy.
Shana Skinny Tea Healthy is the perfect followup to the Detox plan or for women who are already feeling healthy. This tea helps combat the everyday health hazards that can zap energy, like germs, water retention, gas, chocolate and stress. Shana Skinny Tea Healthy is used to support a woman's natural immune system and add bonus antioxidants while keeping their energy levels high.
The benefits of Shana Skinny Tea Strong are an exciting combination of powers that can give women that extra hustle at the gym, the ability to recover quickly from each workout and a power-packed punch to their immune system. Shana Skinny Tea Strong is specifically blended for women who know strong is the new skinny.
It's not hard to tell Shana personally took great care in choosing the organic and natural ingredients in each blend while keeping her tea's environmental footprint small. With roots in the USA, these teas are blended in California and distributed near Shana's hometown in Denver, Colorado.
The above Shana Skinny Tea blends are offered direct from their website at http://www.shanaskinnytea.com. As Shana continues to grow her brand, she's already set her sights on additional product offerings that include blends to promote children's health, fight the flu season and help with women's hormonal challenges.
For more information please visit the website, download the free Shana Skinny Tea | Eat Plan, or contact directly at the email below.