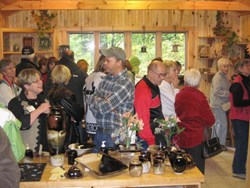 It is a great way to get a headstart on your shopping for the holiday season!
Haliburton, Ontario (PRWEB) September 24, 2013
The 26th annual Haliburton County Studio Tour is occurring on October 5, 6, 12 & 13, 2013. This is not only an opportunity to see the artists at work in their studios and to purchase goods in time for the holiday season .. it is a wonderful opportunity to see the fall cavalcade of colours at their best.
The region bills itself as "a natural work of art" for a reason. For the past 40 plus years the area has been building the infrastructure to support artists in their work. The presence of the Haliburton School of the arts, several galleries, many performing arts groups, and the Sculpture Forest are signs of the engrained artistic nature of the community. Artists are attracted to the area due to the natural beauty combined with the presence of such features.
Artists who work in the region have studios that are speckled across the large geographic area that is often referred to as the Haliburton Highlands. The roads between the studios take the participant through the spectacular, rural scenery that is heavily populated by lakes, rivers, trees, and rocks. Around every bend in the road you will be delighted by a new vista that is pleasing to the eye. In the fall the scenery is enhanced by the cavalcade of fall colour as the leaves change to bright reds, yellows, and oranges before falling to the ground as the trees prepare for their long winter's hibernation.
This is a chance for studio tour participants to meet the artists and to see them at work in their studios. There are demonstrations of all kinds of artistic media by some of the most talented of artists in the Haliburton Highlands, Ontario, Canada. Studio Tour participants will also find one-of-a-kind treasures in a variety of artistic media including painting, sculpture, pottery, jewellery, fiber-art, glasswork, woodwork and metalwork.
The MadeInHaliburton.ca online art gallery members participating in the event are:
Al Van Mil, Annette Van Mil, Barbara Joy Peel, Susan MacDonald, Laura Trach, Charles O'Neil, Sylvia and Wayne Rose, Ricki Woods, Grahame and Debbie Wales, Susan Watson Ellis, Todd Jeffery Ellis, Gary Chapman, Sophia Tink, Kim Warne and Carole Finn. If you wish to preview the work of these fine artists visit the online art gallery artists page and then click on the artist you wish to view.