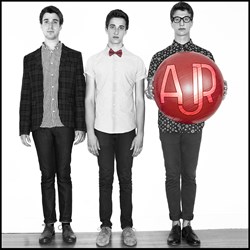 New York, NY (PRWEB) September 16, 2013
AJR is a three-piece brother band consisting of Adam, Jack, and Ryan. Now, don't get turned off thinking this is just some ordinary boy band. These AJR brothers write, produce, edit and record in their living room. After performing with various acts from Hoodie Allen, to Fifth Harmony, and most recently a 10,000 cap show with Demi Lovato, AJR is on the road to being your new favorite band of brothers.
Meet AJR: Adam, 23 and recent graduate of Columbia University, sings, plays bass and writes lyrics. Jack, 16, sings, plays guitar and contributes to songwriting all while still being in high school. Ryan, 19, currently studies at Columbia University and is the primary writer/producer for the group; in addition he plays guitar, ukulele, piano and sings.
Over the course of the next few weeks, AJR will be doing what they call "New Track Tuesday" releasing new music every week on their official Facebook page. Along with the music releases will come behind the scenes exclusives from getting to know what went into each and every song, videos, and photos of the guys.
AJR developed their musical style by performing at a variety of festivals and theaters including Lincoln Center and The Bitter End. In addition to their music, the brothers have also appeared in films, television, commercials, theater, print advertisements, and Sirius Radio. AJR has not only been embraced by the video world, but radio as well. To kick it off, AJR's new single "I'm Ready" and accompanying video was featured on all ClearChannel sites including New York's #1 hit music station, Z100. The track also received placement on Sirius 20 on 20 with 70+ spins the first week. With a stunning range of talents, both musical and not, Adam, Jack and Ryan are poised to reach a wide demographic while introducing a new sound and methodology for music making.