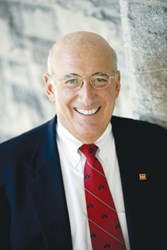 We are focused, confident, and excited on the future of the company. The addition of Richard Berman is a tremendous step towards bringing a campus to South Florida for Oxford City University and working with Oxford City's Youth Clubs.
Deerfield Beach, FL (PRWEB) September 17, 2013
"Richard Berman has an extraordinary background and will be a phenomenal resource for Oxford City University and OXFC", said CEO, Thomas Anthony Guerriero.
From 1972 to 1974, he worked in Washington, DC for the US Department of Health, Education, and Welfare. He carried this knowledge with him to Albany, New York, where he was a cabinet official from 1977 to 1982, first as Director of the New York State Office of Health Systems Management and then as Commissioner of the Division of Housing and Community Renewal. He was Executive Vice President of NYU Medical Center and Professor of Health Care Management at the NYU School of Medicine from 1983 to 1986 and then joined McKinsey & Company as a Management Consultant. Following this, he spent four years in various roles in the executive search field with Korn Ferry International and Howe-Lewis International. In 1995, Mr. Berman was selected by Manhattanville College to serve as its tenth President. Mr. Berman is credited with the turnaround of the College, where he served until 2009.
Berman was awarded Fulbright Commission grants to advise the leadership of Kabale University, Uganda and the National University of Rwanda. Richard has served on the Commission on Advancement of Racial and Ethnic Equality of the American Council on Education, was a member of the Board for the State University System of New York (SUNY), Division III President's Council of NCAA, ProPAC, and the New York State's Commissioner's Advisory Council on Higher Education. Since "retiring" in 2009, Mr. Berman has served as a consultant to the Commissioner of the US Food and Drug Administration (FDA) and as an advisor to the government of Rwanda in the fields of healthcare and education, and in 2010, he accepted a full-time position as Advisor to the Joint Special Representative of the African Union-United Nations Mission in Darfur (UNAMID) – the largest peacekeeping operation in the world. He is currently a member of the Boards of Emblem Healthcare, Seeds of Peace, NY Police Museum and Advisor to the Chancellor of KWARA State University, Nigeria.
Richard attended the University of Michigan in Ann Arbor, receiving a Bachelor of Business Administration degree in 1966 and his MBA and MPH degrees in 1968. He holds an honorary Doctor of Laws from Manhattanville College and an honorary Doctor of Humane Letters from New York Medical College. He was elected to membership of the Institute of Medicine of the National Academy of Science.
Thomas Anthony Guerriero stated, "We are focused, confident, and excited on the future of the company. The addition of Richard Berman is a tremendous step towards bringing a campus to South Florida for Oxford City University and working with Oxford City's Youth Clubs."
Oxford City Football Club (OTCQB:OXFC) is a publicly traded company, which is an owner of a professional football club in the Conference North Division and a professional football club in the Hellenic League Premier Division of the English Football Association. The company is strategically positioned to implement their vertical integration model incorporating all their divisions towards future growth. The company also owns a University in the United States, which expects to have its first brick and mortar campus in South Florida in the near future and expects the strong ties in Oxford to strategically put the University in a tremendous position for the future. The company also owns a Registered Investment Advisory Firm based in South Florida. This diversified portfolio of companies has established a solid core foundation, which we hope will allow the company to have a multitude of revenue streams in the future.
Safe Harbor for Forward-Looking Statements
This press release contains forward-looking statements within the meaning of Section 27A of the Securities Act of 1933, as amended, and section 21B of the Securities and Exchange Act of 1934, as amended. Readers are cautioned not place undue reliance on these forward-looking statements, which are only predictions and only speak as of the date hereof. Forward-looking statements usually contain the words "estimate," "anticipate," "believe," "plan," "expect," or similar expressions and are subject to numerous known and unknown risks and uncertainties. These risks and uncertainties could cause the Company's actual results to differ materially those indicated in the forward-looking statements. Investors are encouraged to carefully review regulatory filings prior to investment consideration. Past performance is no guarantee of future success or that there cannot be losses or business interruption. The Company is in a rapid growth sector that may or may not continue to grow in the future and therefore poses risks that may be different than other investments. Management regularly provides news and additional information believed to be true and accurate at the time of dissemination but has no requirement to modify, comment or change in the future should circumstance change or information prove to be inaccurate for any reason. Additionally, the Company makes every effort to comply with all applicable laws.