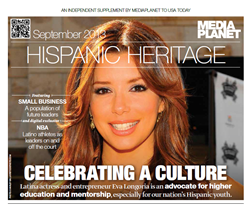 New York, New York (PRWEB) September 13, 2013
As we enter National Hispanic Heritage Month beginning September 15th, we should all take a moment to reflect on the positive affect Latinos have had on our country through culture, business and more. Mediaplanet's 2013 edition of 'Hispanic Heritage,' a centerfold special within USA Today and Digital Campaign, launched today for millions to see.
Through this special interest section, Mediaplanet and its partners aim to educate millions about the influence Hispanic culture has had on America as a whole. The campaign aims to empower future leaders emerging from Hispanic communities, highlighting community and educational programs that gear them up for success. It also aims to inspire readers to recognize how their own daily routines have been influenced by this rich heritage.
The 12-page special will remain on the stands through Saturday and Sunday, and will be distributed in highly targeted markets within USA Today, with approximately 450,000 copies distributed and an estimated readership of 1.4 million. To explore the digital version of the campaign, click Hispanic Heritage.
The glossy, full-color special section features Eva Longoria, Latina actress and entrepreneur who advocates for education among our youth, and even more specifically, among our young Latinas. "The value of education is bar none the most important message we can give to our youth today," said Longoria in an exclusive interview with Mediaplanet.
With the support of The U.S. Hispanic Chamber of Commerce, The Latino Coalition, Eva Longoria, Twitter, The National Council of La Raza, and other organizations, Mediaplanet encourages readers to educate themselves on transplantation not as a miracle treatment, but as an emerging field of medicine with a great deal of potential.
Mediaplanet is the leading independent publisher of content-marketing campaigns covering a variety of topics and industries. We turn consumer interest into action by providing readers with motivational editorial, pairing it with relevant advertisers, and distributing it within top newspapers and online platforms around the world.